Recently, The Invading Sea media collaborative published an editorial, "Federal flood insurance is a mess, and it'll be expensive to fix." Let me provide some additional clarity to your readers about the National Flood Insurance Program (NFIP) and everything we are doing to help reduce America's flood risk.
Flooding is the most common and costly type of disaster in the United States. In fact, for the 2017 and 2018 hurricane seasons combined, the NFIP paid its policyholders over $11 billion to assist in their recovery. That amount still doesn't touch the thousands of others with flood losses who weren't insured.
To the critics of our debt, it's important to understand the historical context. The lack of severe storms between 1986 and 2003 allowed the NFIP to rely on premium payments to pay claims without the need for substantial borrowing.  In 2004, after payment of claims for four hurricanes in Florida, the program had to borrow approximately $225 million.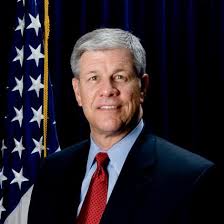 Flood claims from those storms far exceeded the funds available from policyholder premiums to pay for insured losses. It is unrealistic to raise premiums enough to make up the deficit from extreme events.
As a result, Congress enabled the NFIP to borrow funds from the U.S. Treasury to pay claims, thereby assisting property owners and communities to recover quicker.
Let me be clear: borrowing is a temporary measure put in place while NFIP works on ways to improve its financial framework and we are working with Congress to significantly reform the program.
I know that there are ways to improve the NFIP. Let me share a few of the many steps taken in recent years to make the program more efficient and effective:
To help reduce the amount of the NFIP's financial losses, FEMA in 2017 took advantage of a Congressional provision allowing the program to secure reinsurance from the private markets. Reinsurance is a financial risk management tool used by private insurance companies and public entities to protect themselves from large financial losses. The program recovered $1.042 billion from this coverage as a result of the losses from hurricanes Harvey, Irma and Maria.
FEMA completed an additional reinsurance placement in August 2018, transferring $500 million in NFIP flood risk to capital markets investors.
The NFIP oversees floodplain management and building code guidance for 22,352 communities nationwide. Participating communities ensure that all new construction meets federal building standards to not only protect lives and property, but also reduce future damage from flooding. This practice alone saves almost $2 billion in avoided losses annually.
FEMA is working with local officials throughout the country to reduce flood risk by acquiring flood-prone properties. From 1989 to 2017, FEMA funded the purchase of more than 45,000 homes, removing these people and properties from harm's way. The cost to acquire the properties was $3.14 billion and is estimated to save more than $6.49 billion in losses.
FEMA will launch an initiative to deliver fairer rates for the NFIP by leveraging technology and data to streamline the underwriting and policy issuance process.
Catastrophic events will continue to occur. Flooding and mudflows, including those that result from the recent wildfires in California, will continue to affect Americans.
That's why we are working aggressively to increase the number of policyholders.
Unfortunately, most Americans are in denial about their flood risk and lack needed insurance protection. Where it can rain, it can flood. Many only find that out when disaster strikes and they struggle to rebuild.
We know that without the NFIP and community involvement –managing floodplains, updating flood maps and communicating flood risk — millions of Americans would be at a much higher risk of losing the life they've built to floodwaters.
We know that residential flood insurance — the bulk of which is provided by the NFIP — is the best protection against a major threat to lives and homes.
David I. Maurstad serves as the FEMA's Deputy Associate Administrator for Insurance and Mitigation and is the chief executive of the National Flood Insurance Program. Mr. Maurstad has also held the elected positions of Nebraska's Lieutenant Governor, State Senator of the Nebraska Unicameral Legislature, and Mayor of Beatrice, Nebraska.
"The Invading Sea" is a collaboration of four South Florida media organizations — the South Florida Sun Sentinel, Miami Herald, Palm Beach Post and WLRN Public Media.