In September, Floridians dodged Hurricane Dorian. Unfortunately, residents of some Bahamian islands were not so lucky.
As a category 5 storm, Dorian wreaked havoc. Families throughout the Caribbean and up the Atlantic coast grappled with many days of anxiety and stress as they prepared their homes amid the uncertainty of the hurricane projection. The hurricane battered some parts of the Bahamas for more than 36 hours.
As a psychiatrist and activist with family in Puerto Rico, I have been involved in post-disaster interventions after Hurricane Maria. From that experience, I know that the hardships that some survivors experienced due to Dorian might last a very long time. Extreme storms can bring psychological trauma and grief to those directly affected.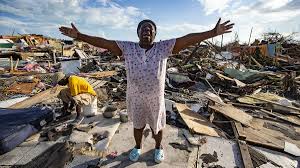 The effects are usually worse for communities with limited resources. Common symptoms include insomnia, crying spells, sadness, panic attacks and higher use of substances, as well as higher rates of post-traumatic stress disorder, depression and anxiety.
Survivors can also struggle with a sense of deep sadness or longing for the environment. Hurricanes tend to disrupt the availability of healthcare and medications for people with medical needs and psychiatric disorders. Leaving a home damaged by a hurricane can trigger depression or anxiety.
Research shows that human activity is affecting how hurricanes behave. Warmer ocean temperatures have generated storms that are much stronger and wetter than in previous years. Storms also are moving slower as they go through populated areas. Dorian is a vivid example of how the climate crisis is related to how intense, slow and dangerous hurricanes can be.
So, what can we do to address the consequences of extreme weather events in the face of a warming climate?
Become involved in disaster response efforts. Help survivors with the tools and methods that they request, instead of helping in the ways we think are best for them. Have strategic plans according to the stage of the recovery process and focus efforts on achieving sustainable impact. It is also crucial to assist communities that have been systematically oppressed and help them advocate for themselves.
We must minimize our carbon footprint and mitigate the impacts of climate change. You can calculate your carbon footprint online and try to implement ways to decrease it. Using less plastic or reusing it, buying fewer new clothes, modifying our energy consumption to more sustainable options such as LED lights, using electric cars and solar power, and eating less meat are just a few examples.
We can also speak up to support policies and legislative action to address climate change and to minimize fossil fuel emissions. Health professionals and persons with knowledge about the impacts of climate-related events on health can use their expertise to assume roles in public education and advocacy, and to engage with their communities.
Health professionals can educate and prepare their colleagues, medical trainees, university students and community members. Furthermore, they can help their patients prepare and assist them in establishing prevention and response plans to confront storms.
My biggest concern as a community psychiatrist is the disproportionate impact of climate events such as Dorian on populations experiencing systemic oppression, racism and poverty.
Since most oppressed communities lack resources for recovery and tend to have little or no political power, I think demanding social justice and accountability from government agencies that are responsible for providing adequate assistance is also crucial.
We can support community efforts in developing strategies and projects to develop sustainable access to food and energy for underserved populations, such as solar and wind power grids and organic agroecological projects. A combination of education, mitigation and climate justice is necessary to solve this crisis.
The solutions have been discovered already; it's just a matter of demanding climate action and doing our part to implement them.
Dr. Carissa Caban-Aleman is an Assistant Professor in the Department of Psychiatry & Behavioral Health at the Herbert Wertheim College of Medicine at Florida International University.
"The Invading Sea" is part of the Florida Climate Reporting Network, a collaborative of news organizations across the state focusing on the threats posed by the warming climate.