By Guido Weiss, Democratic candidate for the U.S. House
In the coming month, millions of Floridians, including myself, will start preparing for hurricane season. As we brace for the potential damage of another storm, certain truths cannot be overlooked.
Global warming undeniably causes more dangerous weather systems, and warmer temperatures contribute to sea-level rise, threatening billions of dollars in infrastructure in Florida.
To deny climate change's consequences is scientifically incorrect, but also morally reprehensible. Floridians urgently need to elect leaders who are committed to protecting our environment and the livelihoods of Floridians for generations to come.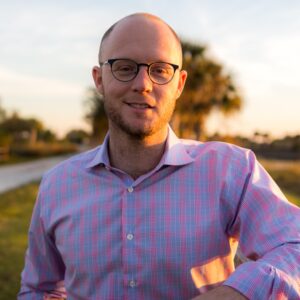 Since announcing my candidacy in the Democratic primary for Florida's 21st Congressional District in Palm Beach County, I have been adamant in supporting federal legislation to protect our economy and environment. As a representative, I will fight to ensure a Green New Deal to reduce our reliance on fossil fuels and steer America toward a clean energy future.
Shifting the nation away from fossil fuels will mitigate the harmful effects of climate change while reducing our reliance on foreign energy. Meanwhile, investments made in the clean energy sector will create millions of jobs that will ensure America leads the world in energy innovation. Transitioning to renewable energy is not a compromise between environment and economy, rather it is an investment protecting both for generations to come.
Reducing our consumption of fossil fuels is not enough to protect the environment.  Under-regulated commercial agriculture also presents a threat to our state. Runoff from fertilizers contributes to recurring algal blooms that harm our wildlife, tourism industry and coral reefs.
Seasonal crop burns also release toxins into the air. All around, we are endangering the health of our communities and ecosystems. We have the potential for more sustainable and diversified agricultural models in Florida and across the United States, but corporate agriculture exerts considerable influence on Florida's politicians.
It is the duty of elected officials to act in the best interests of constituents, not corporations.
The goal of democracy is not to elect the best party, but to elect the best person. To confront the climate crisis, we must first elect leaders whose personal interests are in sync with those of the nation.
Throughout my campaign, I have pledged to reject campaign donations from corporations that profit at the expense of people.  It is the duty of Democrats to elect the best possible candidates to represent the values of our party.
Guido Weiss is a progressive Democratic candidate for Florida's 21st Congressional District in Palm Beach County, who was born and raised in Wellington. Guido is a Navy Reserve officer, and before running for office, he was a senior adviser in Congress. The Democratic primary is Aug. 18.
"The Invading Sea" is the opinion arm of the Florida Climate Reporting Network, a collaborative of news organizations across the state focusing on the threats posed by the warming climate.