By Rai Espinoza, Conservación ConCiencia
I was just getting Conservación ConCiencia off the ground when Hurricane Maria hit Puerto Rico in 2017. From the start, the organization's vision has been a world where nature thrives, economies prosper, and people flourish.
We do this by supporting environmental research and conservation programs that promote sustainable development. I have always believed that poverty can drive environmental degradation, but can also create and facilitate economic opportunities for communities.
These opportunities can help lift people out of poverty and break that cycle wherever hurricanes strike.
Months into the aftermath of Maria's destruction, too many of the survivors continued to go without basic needs. People across Puerto Rico depended almost entirely on neighbors to get clean water, food, or any kind of support.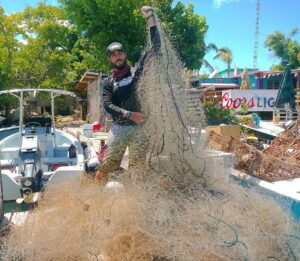 My family and I in San Juan were safe, but I started thinking about what I could do to help Puerto Rico during this life-altering crisis. So, I reached out to one of the local fishing communities that I had worked with in southeast Puerto Rico called Naguabo.
Eight months after Maria hit, Naguabo still didn't have power, and the  fishers told me they couldn't even buy water at times. The community was able to catch only a few fish, and the majority of gear had been lost in the storm — creating significant debris in the fishing areas — and many of the boats had been damaged.
Of the 26 fishers who were living in Naguabo, five moved to Florida.
We knew we had to help, so Conservación ConCiencia initially bought basics like rice and propane. But what finally turned the tide was a grant for emergency marine debris removal through our fiscal sponsor The Ocean Foundation. It is funded by the National Fish and Wildlife Foundation's (NFWF) Impact-Directed Environmental Accounts program. We later got a NFWF Fishing for Energy grant with support from Covanta and the NOAA Marine Debris Program as well as the Puerto Rican Foundation Segarra Boerman e Hijos.
Puerto Rico's fisheries are primarily artisanal. Most of the boats are under 25 feet long, and most fish are caught by handlines, spearguns, fishing traps, and other small-scale fishing gear. The small-scale nature of Puerto Rico's fisheries has made it hard for these fishers to get federal disaster relief money.
With the grant, our idea was that we would partner with fishing communities to clean up marine debris that needed to be removed to protect marine resources, while providing fair compensation to fishers for their participation.
The NFWF grant came through with funds for everything — from the collection of the lost or broken fishing gear, otherwise known as "ghost gear," all the way to hauling it to the dump.
And the money stayed in the community along the entire chain. The program would pay each fishing boat at least $500 for a trip to the reef, which would cover their time and fuel, or $100 per trap they pulled out of the water. The first boat to go out retrieved 35 fishing traps in just one hour.
The success of our collaboration led to other foundational grants, which helped over 300 fishers and their communities get back on their feet. And through the removal of over 60,000 pounds of ghost gear, these efforts also helped decrease the number of marine life entanglements and the destruction of local reefs.
It was conservation cooperation in a crisis and proof that we could design a program that would be both a conservation success and assist in economic recovery. For a lot of the people we collaborated with, it was the first time they had seen conservation work as an economic alternative to resource extraction.
Now, in these times of coronavirus, we are beginning to look to the future to figure out how to rebuild the economy in a more equitable way. Any rebuilding should not only include the conservation and restoration of our natural areas but also look to indigenous knowledge and leadership.
As demonstrated by those in the fishing community who led the cleanup, the blueprint for conservation can be one where nature thrives, economies prosper, and people flourish – a vital story to tell in places like Puerto Rico and Florida that too often find themselves in the path of hurricanes.
Rai Espinoza was just organizing his Puerto Rico-based NGO Conservacion Conciencia when Hurricane Maria hit. He led a large effort within the fishing community to clean up debris from reefs and rebuild coastal communities.
"The Invading Sea" is the opinion arm of the Florida Climate Reporting Network, a collaborative of news organizations across the state focusing on the threats posed by the warming climate.