By Congresswoman Donna E. Shalala
Setting aside politics, the cancellation of a presidential debate that was to take place in Miami this week is a tremendous loss not just for our city, but for our entire nation. It is a lost opportunity for voters to ask the two men campaigning to lead—or continue to lead—the United States of America crucial questions about how they would handle an increasingly urgent issue: the climate crisis.
Possibly no city in our country better embodies the incredibly high stakes of climate action or inaction than Miami. For our communities, rising seas and record-breaking floods and hurricanes are not hypothetical threats — they are part of a catastrophic reality bearing down on us right now.
We know we are not the only ones on the front lines of this crisis. With parts of the West on fire, more intense Atlantic hurricanes, and large swaths of the country grappling with floods, heatwaves, droughts, sea-level rise, or all of the above, the danger that a warming globe poses to the American people is clear.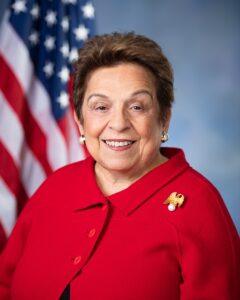 These climate disasters are claiming lives, harming public health, destroying homes, damaging our ecosystems and economies, and exacerbating underlying injustices by taking a heavier toll on low-income people and communities of color.
A piecemeal approach to surviving these interwoven challenges has proven woefully inadequate. Truly tackling the climate crisis demands coordinated, national leadership at the highest level.
We all know that Donald Trump and Joe Biden hold divergent views on how to approach this crisis. But so far, the American people have been largely deprived of a thorough and honest debate about their positions.
In the first presidential debate and the only vice-presidential debate, moderators wasted precious time asking the candidates if they "believe" in climate change, despite the clear scientific consensus and polls showing that voters overwhelmingly understand the threat of global warming and want federal action.
Chris Wallace framed several questions to Joe Biden and Donald Trump around the economic cost of climate action, without mentioning the even greater costs of climate inaction. The climate portion of the vice-presidential debate, meanwhile, was dominated by a discussion about fracking, an issue that serious people can argue about, but no serious person can argue is a solution to climate change.
The debate in Miami could have been different, because the town hall format would have offered real voters the chance to ask the questions that matter to them. From how we can best end our reliance on fossil fuels and transition to a clean energy economy, to how we should think about the intersection of racial and climate justice, many crucial questions still need to be asked—and answered.
Voters could have asked the candidates what responsibility they believe the federal government has to assist states, counties, and cities with the economic toll of climate change. Here in Florida, these are dire questions about our survival.
Last year, the people of Miami-Dade County spent $600 million on infrastructure projects to make us more resilient against climate disasters. The City of Miami is at risk of losing $41 billion in property value to sea-level rise by the end of the century. What plans do the candidates have to help frontline communities pay the costs of adapting to a warming planet?
Voters could have asked the candidates not simply if they agree with scientists that greenhouse gas emissions cause climate change, but whether they believe that individual Americans or multi-billion-dollar fossil fuel companies bear responsibility for those emissions.
Voters could have asked what plans, if any, they have to hold that industry accountable. Just 100 companies have produced more than 70 percent of global greenhouse gas emissions since 1988, and a growing number of lawsuits from states and cities across the country have presented evidence that oil companies deliberately misled the American people about climate science to protect their profits. Do the candidates think companies that profit from fossil fuels should pay their fair share of climate costs?
Americans are desperate to hear candidates propose bold and ambitious solutions to fight global warming. How we confront climate change can and should be a matter of robust debate, and not having that debate at all is a disservice to all Americans.
The truth of the matter is this: If Joe Biden and Donald Trump were asked to answer these questions, voters would quickly learn that only one candidate takes this crisis seriously. Only one candidate has a plan to put our nation on a path toward a stronger, cleaner, more resilient future. That candidate is Joe Biden, and voters deserve to hear his plan.
Congresswoman Donna E. Shalala serves Florida's 27th District which includes the city of Miami and surrounding municipalities in Miami-Dade County. She is the longest-serving Secretary of Health and Human Services in U.S. history.
"The Invading Sea" is the opinion arm of the Florida Climate Reporting Network, a collaborative of news organizations across the state focusing on the threats posed by the warming climate.