By The Rev. Dr. Russell L. Meyer, Florida Council of Churches
Florida became our home in the '90s. We've watched climate change ravage our beautiful state since then, and the harm continues.
As a faith person, I want to be a good steward of creation, preserve resources for future generations, and make certain my neighbors can enjoy what God provides us all. As a faith leader, I know people want to reverse the damage and protect God's creation. They are looking for actions that make a difference and leaders who champion them.
At a base level, we know the cause and the solutions for environmental degradation. We must significantly reduce pollution to avoid the most dangerous effects of climate change.
The good news is that Florida now has a roadmap that tells us how to reduce pollution to a safe level, and a timeline for when those actions must take place in order to protect this vulnerable place we call home.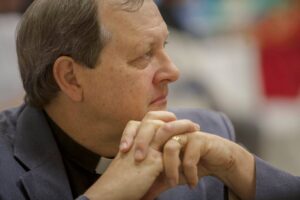 Thanks to data scientists at Evolved Energy Research (EER), we have a workable and reliable roadmap to decarbonize the economy. Their sophisticated modeling looked at energy demand forecasts, infrastructure needs such as electric grids, as well as cutting-edge technologies, to detail how to rapidly transition Florida's energy system from fossil fuels to clean renewable energy.
For consumers, perhaps the key takeaway is that clean energy comes without having to pay more for energy. Plus, renewable benefits like cleaner air and water provide new and incalculable value while safeguarding the climate for our grandchildren. This clean energy transition maintains our lifestyle and sustains economic development.
By 2050 Florida can meet energy demand with 100% clean sources like energy efficiency, solar plus battery storage, offshore wind, and biomass. And this transition assumes that demand for "energy services such as lighting, transportation, industrial production, and building heating and cooling continues to grow.
The transition to clean renewables also means a more equitable energy system. Since most new spending on infrastructure would be offset by reduced fuel use, the result will be a more affordable and equitable energy system. For what we spend on carbon, we can have clean energy, new jobs, healthier households.
Over the next 30 years, we could manage a gradual reduction in fossil fuel jobs largely through retirements, while new and younger employees entering the energy sector looking for good-paying jobs would instead be trained for low-carbon technologies. A win-win situation.
Now, when most scientists tell us that we are altering the climate in a destructive way by using dirty fuels, the need to decarbonize our energy system is crystal clear. It will be far more costly in extreme weather, killer heat, sea level rise, and energy demands caused by those things to go slow or not at all towards clean energy.
Insisting on fossil fuel reliance will fall hardest on lower income households as energy prices rise since they use a larger share of their earnings for their power bills. They get squeezed when volatile fuel prices spike, and these vulnerable families are more exposed to air and water pollution from fossil fuel extraction, processing, transportation, and use.
Fossil fuel health risks are significant in frontline communities that are wrapped by busy roads or sit under toxic coal plants. When we eliminate the pollution from power plants, vehicles, and petroleum refineries, we reduce the unfair financial and health burden placed on disadvantaged households. That's loving your neighbor as yourself indeed.
As a faith leader, I often preach on hope. The roadmap offers real hope to a cleaner, healthier, and more equitable near future. Hope alone is not a plan to overcome the deadly serious situation we are in.
We must act now. We have the solution and a few short years to get the needed transition underway. We can avoid the worst implications that would come from staying the current energy course.
What the author of the EER report says is a powerful reminder, "We still have time, even if time is running out. We need to make our way to an orderly exit. We still have time to make that orderly, if we start now."
The Rev. Dr. Russell L. Meyer is executive director of the Florida Council of Churches, a leadership forum for unity and action among historic Protestant and Black churches.
"The Invading Sea" is the opinion arm of the Florida Climate Reporting Network, a collaborative of news organizations across the state focusing on the threats posed by the warming climate.