By Carrie A. Scherpelz, Citizens' Climate Lobby
I will greet my first grandchild just after Inauguration Day. Will you please vote for her future?
In recent years I have been deeply concerned about the threat to future generations if global warming is left unchecked. My concern changed to dismay the moment our daughter surprised us with the news that she was expecting a daughter of her own. I was immediately fiercely protective of my granddaughter-to-be.
The President we elect on Nov. 3 is key to her future. One candidate, Donald Trump, has ignored climate science. The other, Joe Biden, recognizes that runaway climate change caused by human activity is an existential threat that must be urgently addressed.
I was born in 1953 and never dreamed I would experience a globally disruptive pandemic in my lifetime. Scientists were not at all surprised. They have long predicted a pandemic like this one.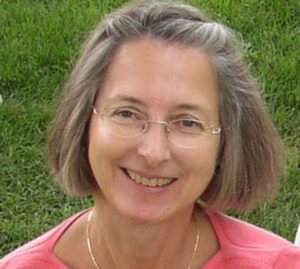 For decades, climate scientists who model the future have predicted the dire effects of the spike in Earth's atmospheric temperature since the Industrial Revolution. They tell us that humans caused the temperature to rise by burning fossil fuels, and humans must transition away from fossil fuels as rapidly as possible to flatten the emissions curve.
Like you, I long for pre-pandemic life to resume so I can visit family members again. That's why, when they tell us how to avoid a big spike in infections, I follow the advice of epidemiologists who model the future of COVID-19 outbreaks. If we all pull together in the same direction—restricting travel and large gatherings, wearing masks and washing our hands—we have the power to flatten the curve of infections.
To flatten the curve, many Floridians have postponed visits with their grandkids. Early next year I will be in the same tough spot.
Just as we heed the epidemiologists, we should heed the predictions of climate scientists. We have learned an important lesson—early and consistent action based on scientific projections makes the difference between a manageable challenge and worsening worldwide crisis.
Our global pandemic is a stark preview of the personal and global disruption ahead as the climate—already hotter than humans have ever experienced—continues to warm. In 2018 scientists with the United Nations' Intergovernmental Panel on Climate Change determined we must halve heat-trapping emissions by 2030 and achieve net zero CO2 emissions by 2050 to avoid catastrophic climate breakdown.
One of the world's foremost climate experts, Michael Mann, cautions, "Another four years of what we've seen under Trump, which is to outsource environmental and energy policy to the polluters and dismantle protections put in place by the previous administration … would make that essentially impossible."
The pandemic will pass relatively quickly. On the other hand, the effects of a warming climate will be long-lasting. Florida faces enormous human and economic costs due to extreme weather, sea-level rise, and other impacts.
Along with a strong majority of voters, I want action on climate as we rebuild our economy. This is an opportunity to create 25 million clean energy jobs in twenty years via a wartime-scale mobilization and at the same time create a zero-carbon economy.
I want my granddaughter to grow up in a world like that.
"The future of this planet is now in the hands of American citizens," says Mann. "It's up to us. The way we end this national and global nightmare is by coming out and voting for optimism over pessimism, for hope and justice and progress over fear and malice and superstition."
For the sake of our children and grandchildren, please cast your precious vote for climate-friendly candidates.
Carrie A. Scherpelz, a marketing and communication professional, lives in Madison, Wis. She is a volunteer with CitizensClimateLobby.org. Her articles have been published in the Chicago Tribune, the Seattle Times, USA Today, and the Huffington Post.
 "The Invading Sea" is the opinion arm of the Florida Climate Reporting Network, a collaborative of news organizations across the state focusing on the threats posed by the warming climate.