By Jose Javier Rodriguez, Democratic State Senator
These days it can feel like there is a lot more that divides us than unites us. However, it's increasingly clear that climate change isn't one of them.
As much as the Republicans in the White House and Congress like to pretend climate change isn't happening, our summer of extreme heat, climate fires, supercharged hurricanes, derecho wind storms, and other extreme weather events have proven otherwise. Florida knows this better than most.
In South Florida, king tides are flooding our streets due to sea-level rise. In Miami-Dade County, cases of mosquito-borne illnesses are on the rise, a situation that gets worse at this time of year because of heavy rain. And a record-breaking supercharged hurricane season is still underway, threatening our state.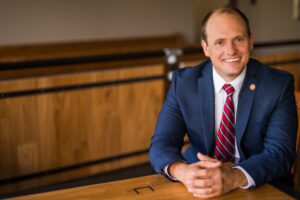 This is why we need to vote for climate this election. We are facing an urgent moment that will decide how our country progresses forward — not just for one presidency but for decades and centuries.
Experts widely agree that if we don't act now, we'll miss our chance to stop the worst effects of the climate crisis. It's a now or never moment.
With so little time left in this election, we cannot afford to miss our chance to vote for science and climate action so we can all do the work to prevent our children from facing terrifying repercussions from climate change.
We have a choice: Instead of leaving our most vulnerable citizens to endure the harm from a warming planet, we can choose leadership that will consider how any new action by the government or industries will affect the health, welfare, and environment of every community.
Luckily, voters have indicated their strong support for those committed to taking bold action on climate change. But to accomplish this mission, we need a movement of climate voters to come to the polls between now and Election Day.
This coalition exists. Climate change is an issue that touches us all — from our health to our national security, to economic growth, justice, and America's standing in the world. If all the individuals who deeply care about those issues turned out for candidates who know that climate action is the first step in addressing those challenges, we'd have a powerful coalition that would bring about change.
The good news is that climate crosses political and demographic lines. A majority of Democrats, Republicans, and Independents believe climate change is a serious threat. And a majority of voters want Congress and the next president to make climate action a Day 1 priority.
This holds true even more so in Florida. Florida voters want us to act on climate. A recent poll from Yale found that 68% of Floridians believe in climate change, and 59% of the state's residents are worried about climate change.  Further, more than half of the respondents stated that a presidential candidate's views on climate change are important to their votes.
Florida has long lived with the climate crisis. Those who also went through Hurricane Andrew remember that we — amid the wreckage and tragedy — united around one purpose: recovery. We learned lessons from our planet, and we now have better resiliency plans.
We need to embrace that spirit once again as we go to the polls. Today, it's essential for us to work together to recover from the devastation climate change is inflicting and make our state more resilient. To be a climate voter.
If 2020 has proven one thing, it's that science matters. And I sincerely hope that Floridians vote on science and climate. We might not get another chance.
Jose Javier Rodriguez is a member of the Florida State Senate and an outspoken advocate for Florida's coastlines and a clean energy economy.
"The Invading Sea" is the opinion arm of the Florida Climate Reporting Network, a collaborative of news organizations across the state focusing on the threats posed by the warming climate.