By Philip Smith, Citizens' Climate Lobby
Climate scientists and activists across the world have been warning of the climate crisis for decades with minimal real action in the countries that pollute the most — the United States, India and China, to mention a few.
Most of our politicians unfortunately tend not to lead on difficult political issues, but act only when it's in their self-interest and will keep them in office. But a gathering storm of events may just finally push them to action.
This summer, record wildfires destroyed homes and lives, darkening skies across the country. Record rains and flooding and heat domes resulted in deaths as well. The climate crisis has finally begun to crystalize in the minds of the American public.
One of the most widely watched gauges of public opinion in the United States on climate change, the Yale Program on Climate Change Communication, took a dramatic jump in the number of Americans believing climate change is happening, which now stands at 76%.
And 70% of Americans surveyed, an all-time high since polling began in 2008, are "very" or "somewhat worried" about climate change. Two out three registered voters believe the United States should reduce our greenhouse gas emissions. Among Republicans, only 13% believe we should not reduce those emissions.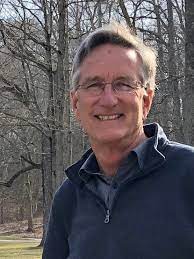 Congressmen and senators are getting deluged with requests for strong action. Recently, over 50,000 calls and emails were sent to U.S. senators asking for action. Concerned citizens are making similar requests of President Biden and House members.
And it's not just voters: American businesses want action. They want a price on carbon pollution to allow the free market to find the best and most innovative ways to reduce green-house gas emissions.
The United States Chamber of Commerce, the Business Roundtable (CEOs of 200 of the largest U.S. corporations) and the American Petroleum Institute all either indicated they are open to carbon pricing or specifically recommend it. Over 3,000 economists have also added their voices for a price on carbon.
Business leaders know that if we don't act on pricing carbon, we will be at a competitive disadvantage in world trade. Our exports to the European Union will face a carbon border tax beginning in 2023 if we have not enacted a carbon price. It is likely that similar carbon border taxes will be enacted by other trading partners.
A price on carbon pollution will work. Resources for the Future has estimated that a carbon price starting at $15 per ton of emissions and rising by $10 per ton a year will drop green-house gas emission to 50% of past levels by 2050.
Action on climate change will slow coastal and inland flooding, the decline in agricultural productivity for crops such as corn and soybeans, and provide us with cleaner air to breathe as coal power plants are retired and cars and trucks switch to electricity. The climate impacts are very real.
The fees collected on carbon pollution should be returned to us in a cash-back check. Many of us will be using those checks to update to more energy-efficient appliances and cars or to weatherize our homes. In the past, regulatory actions for clean air, clean water, hazardous waste cleanup, etc., have been supported by Democrats and Republicans alike.
We need to again patriotically act together to keep America clean and beautiful. Our representatives need to act not only because it's the patriotic thing to do, but to keep their jobs. That gathering storm is likely to unleash a torrent of climate catastrophes again next summer in the middle of election season. It's time for Republicans and Democrats to unite to solve this problem with a market-based solution — carbon pricing.
This piece first appeared in the South Florida Sun Sentinel.
Philip Smith is a retired environmental engineer volunteering for Citizens' Climate Lobby, a volunteer organization seeking bipartisan solutions to climate change. He worked for 40 years in the field of hazardous waste remediation and helped author two guidance documents on remediation of hazardous waste for the Environmental Protection Agency.
"The Invading Sea" is the opinion arm of the Florida Climate Reporting Network, a collaborative of news organizations across the state focusing on the threats posed by the warming climate.