By Delaney Reynolds, Valholly Frank, Isaac Augspurg and Levi Draheim
The four of us – Delaney, Valholly, Isaac, and Levi – are 22, 19, 16, and 14 years old. We were all born in Florida. We are all students in Florida schools: middle school, high school, college and graduate school.
We and our families live, work, and recreate in Florida. As proud Floridians, we need a state that is safe not only for us, but for future generations as well.
For most of our lives we have been advocating for a safe climate, demanding that our state cease government actions that worsen the climate crisis and instead implement climate solutions that protect us and all Floridians. In January, we will once again take action by petitioning our state government to follow its own laws and set a goal to transition to 100% renewable energy by 2050.
We are asking all of our fellow young Floridians to join us.
Alongside other young Floridians, we were plaintiffs in a groundbreaking climate lawsuit, Reynolds v. Florida. We sued our state government – the governor and several state agencies – for their actions worsening the climate crisis, causing us harm, violating our constitutional rights, and damaging Florida's natural treasures and resources.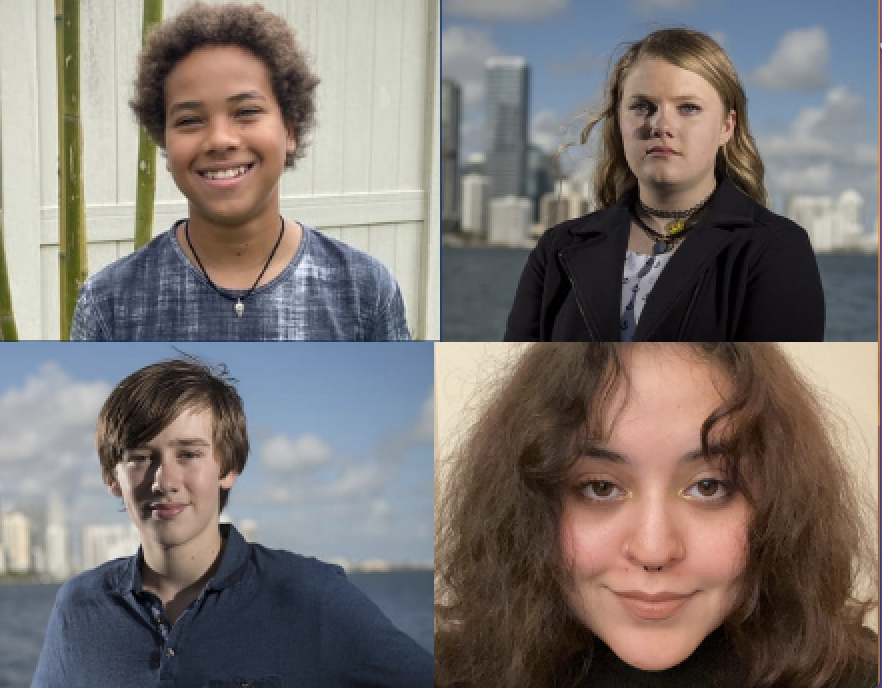 Last year, a Circuit Court judge ruled against us. While our attorneys "made a compelling argument," he "regretfully" decided to dismiss the case. The judge said that we were trying to solve a political question — as though protecting our constitutional rights is not an issue for our courts — and urged us to file an appeal. We did, but the First District Court of Appeal dismissed our case too, without explaining why.
It can be discouraging to face such barriers when we are trying to protect our lives and the state that we love. You might think that this unjust and infuriating experience with our state's legal system might lead us to abandon our efforts, but, instead, we're doubling down. 
Right now, today, we are asking fellow Floridians under the age of 25 to sign on to a petition for rulemaking that we will deliver to the Florida Department of Agriculture and Consumer Services (FDACS) Jan. 5. It asks FDACS to establish a goal for Florida to generate 100% of its electricity from renewable energy by 2050.
Earlier this year, Agriculture Commissioner Nikki Fried said, "Florida is one of the states most vulnerable to the climate crisis. Our leaders should be moving forward on clean energy — instead, they're upholding a system that raises costs for consumers and protects special interests at the expense of our future. We have to break the system."
We couldn't agree more. But we need leaders to use more than strong words. We need them to follow through with real action.
There are many reasons every young Floridian should support clean energy. Our state is the third largest emitter of greenhouse gases in the U.S. Our lawmakers recognized this problem in 2006 and directed agencies like FDACS to use their authority to increase the use of renewable energy, but the FDACS has failed to do its job.
Despite Florida's reputation as the "Sunshine State," only 4.3% of our energy comes from renewable sources like solar. Instead, we overwhelmingly rely on dirty fuels like natural gas even though our Legislature mandated an increase in the use of renewable energy and a reduction in fossil fuels for electricity production. So far, FDACS is ignoring this law.
Our demands to our elected officials are simple and reasonable. Energy experts have already found that it is both economically and technically feasible for Florida to switch to 100% renewable energy by 2050. Not only will this protect our environment, natural resources, and the fundamental rights of current and future generations of Floridians, it will also create hundreds of thousands of new jobs.
The climate crisis is hurting all of us, now, and it's only going to get worse. Rising sea levels, flooding, beach erosion, damage to our ecosystems, the spread of infectious diseases, and even more devastating storms all cause injury, death, and destruction to Floridians in communities from the Atlantic to the Gulf of Mexico.
Unless we do something now.
We are long past the point of waiting for our government and elected officials to do the right thing. So we're demanding action right now. If you are a Florida resident under the age of 25, join us.
All it takes is one simple step – click here and sign the petition – and, in 30 seconds or less, your demands for a safe climate in Florida will be heard.
Together, we can do this. Together, let's tell FDACS and Commissioner Fried that the time for renewable energy in Florida is now. We are Florida's future and we demand that our future be safe and our fundamental rights protected.
Delaney Reynolds, Valholly Frank, Isaac Augspurg and Levi Draheim, plaintiffs in the Reynolds v. State of Florida case.
"The Invading Sea" is the opinion arm of the Florida Climate Reporting Network, a collaborative of news organizations across the state focusing on the threats posed by the warming climate.