By Tusk Philanthropies, Veterans for Political Innovation, and Voting Rights Brigade
Florida has been here before. Florida will be here again.
This time, it's Ian. It's the deadliest hurricane to strike Florida in nearly 90 years and possibly the most devastating in the state's history.
Whilst knee deep in recovery efforts, election officials in the affected counties are scrambling to get absentee ballots out to voters, assessing the state of their polling places, and making decisions about where and how to open and staff in-person voting locations.
Sadly, they're getting good at it. This is becoming routine for Florida officials. Just four years ago, Cat-5 Hurricane Michael hit Florida's Panhandle just 27 days before the 2018 midterm election.
That storm forced election officials to consolidate polling places, reducing voting access to some voters, and consequently, turnout was depressed. This year may very well prove worse. One official described his county as "devastated."
The state now employs resiliency experts to manage environmental concerns. What about elections' resiliency? Isn't it time for a sustainable elections' plan?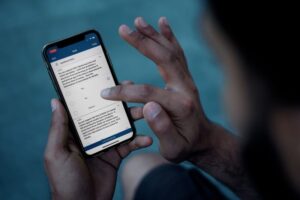 MOBILE VOTING options are available now to help Florida become more resilient to natural disasters and ensure eligible voters can still access the ballot box. Mobile voting allows a voter to receive, mark, and return a ballot from a smartphone, tablet, or computer.
Voters do not need to figure out how to access a ballot by mail. And voters are not forced to find polling places that may now be located miles away. Instead, their ballot is delivered to them through the device they use every day.
Mobile voting is not new. It has been used in elections around the world since the early 2000s. In fact, the U.K. just elected a prime minister using mobile voting last month. In the U.S., mobile voting has been offered to military and overseas voters and voters with disabilities in over 20 elections in seven states since 2018.
In King County, Washington, all 1.2 million eligible voters have been offered mobile voting as an option in special district elections held each year since 2020. In a month, mobile voting will happen in the current elections in a number of U.S. municipalities.
We certainly need to ensure any mobile voting system is secure and that there is no threat to the integrity of the election. However, considering that we do so much online these days, from banking to healthcare and even voter registration, I am confident we can figure out how to safely cast ballots online.
The evidence from the recent U.K. election for prime minister demonstrates that the technology works. And for years, mobile voting has been proven secure for overseas military members and disabled voters in the U.S.
With storms intensifying and increasing in frequency, the time has come to search for new ways to make our elections more resilient and ensure that every voter can exercise their right to vote.
The nonpartisan, nonprofit authors: Tusk Philanthropies directly supports mobile voting projects to increase accessibility for everyone. Veterans for Political Innovation works for common sense solutions to improve our electoral process. Digital Democracy Project from Voting Rights Brigade provides mobile voting on legislation and tracks accountability online.
"The Invading Sea" is the opinion arm of the Florida Climate Reporting Network, a collaborative of news organizations across the state focusing on the threats posed by the warming climate.