By Nathan Crabbe
While South Florida gets much of the attention when it comes to the consequences of sea-level rise, North Florida faces enormous challenges of its own.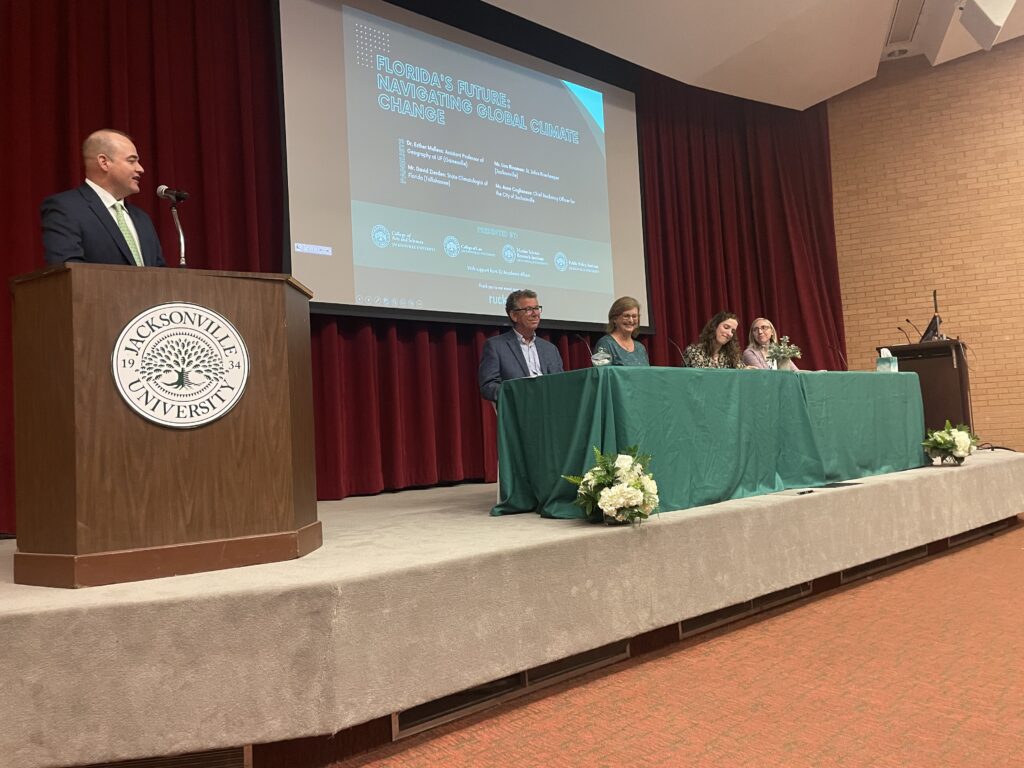 A panel discussion on climate change last week at Jacksonville University delved into some of these challenges as well as possible solutions. One focus was the St. Johns River and efforts to protect properties from flooding along its 310-mile span, which passes through the city of Jacksonville before reaching the Atlantic Ocean.
"Our river could be our greatest asset, but if we're not more resilient, if we're not dealing with these issues, it could also be our greatest threat," said St. Johns Riverkeeper Lisa Rinaman.
This panel included Rinaman, City of Jacksonville Chief Resiliency Officer Anne Coglianese, UF Assistant Professor of Geography Esther Mullens and Florida State Climatologist David Zierden. They discussed efforts to reduce the carbon emissions contributing to climate change, along with efforts to adapt to sea-level rise and other unavoidable consequences.
Under the 2015 Paris Climate Agreement, countries pledged to limit global warming to 1.5 degrees Celsius (2.7 degrees Fahrenheit) above preindustrial levels. Zierden said that threshold is almost certain to be passed within the next 10 years, but that shouldn't stop people from acting.
"Setting these arbitrary thresholds can create a sense of doom, or 'Why should we even bother?'" he said. "So I like it better to look at it like: As much as we can do, as quickly as we can do it, will help stay off the most dire consequences of climate change."
He noted that some of Florida's biggest utilities have been installed large-scale solar farms in the move toward renewable energy. The state would also benefit from better promoting solar panels on homes, he said, through net-metering policies that credit homeowners for the electricity they add to the grid.
"Living here in the state of Florida, here's no reason why every house shouldn't have solar panels on the roof to help generate renewable electricity," he said.
Coglianese said that communities benefit from preparing for sea-level rise and more intense storms by investing in infrastructure improvements and other resiliency projects. She cited a 2018 National Institute of Building Sciences study that found every federal dollar spent on these projects can save the U.S. an average of $6 in costs after disasters.
"It saves cities money, it saves the federal government money to invest in solutions up front," she said.
Rinaman said the St Johns River is particularly vulnerable to sea-level rise, which has increased about 11 inches near the mouth of the river since 1928 and accelerated in recent decades. She noted that the river only drops in elevation 27 feet over its 310-mile span and the river bottom is below sea level for 150 miles inland.
"When we're talking about sea-level rise, it's not just a coastal issue," she said.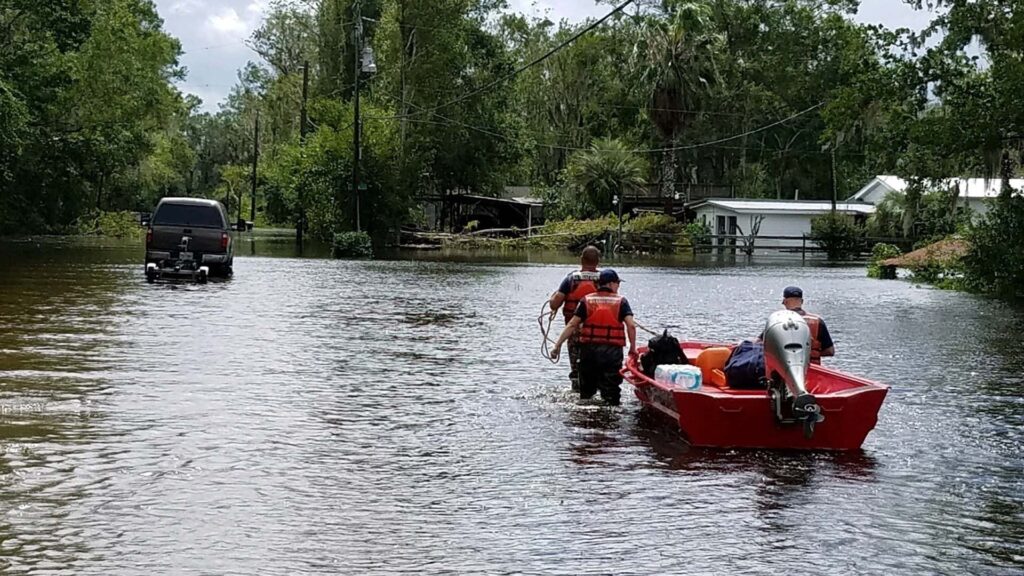 Hurricane Irma in 2017 was a "wake-up call," she said, causing historic flooding in homes and businesses around the river.
"It gets really personal when you have raw sewage flooding into your home or business, when you have raw sewage flooding into your kids' school," she said.
Coglianese said it doesn't even need to be a major storm to cause a major disruption.
"You could get three, back-to-back, small, very intense rainfall events in the span of a couple days that lead to really catastrophic impacts," she said.
Jacksonville must determine whether parts of the city in areas of high risk might need a retreat or major adaptation solution such as elevation or hardening, she said. The city benefits from having more space to work with than other vulnerable cities such as Miami, she said.
"We can really think about how we are shuffling around what Jacksonville looks like while maintaining a healthy, vibrant, booming city," she said, "and I think the transition to a greener city only benefits us."
Nathan Crabbe is editor of The Invading Sea.