We are two of eight plaintiffs who have filed a lawsuit against our state government to protect ourselves from climate change.
Though we come from different parts of the state, we all love and depend upon Florida's natural treasures like Manatee Springs, the Everglades, and the Florida Keys.  Sadly, in these special places, we are already experiencing the ever-worsening effects of climate change and we are asking our government to protect us from this threat.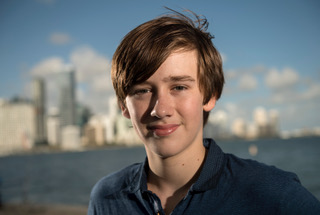 Growing up, we heard about climate change, but it wasn't until we started to see the changes around us that we realized how serious the problem is, and what an imminent threat it is to our lives here in Florida.
In the North, near Gainesville, a heat wave killed all but one of the baby goats on the family farm of one of the plaintiffs. In the Everglades, salt-water intrusion threatens to destroy a unique, one-of-a-kind place.
Anyone can travel through the Everglades and see the swaths of dead trees and understand that climate change is real and happening before our eyes. And all across the state we're seeing increasingly hot temperatures, stronger storms and the loss of our coral reefs.
All of us lived through the devastation of Hurricanes Irma and Michael and scientists tell us storms like that will become more severe.
We have a strong case.  Reynolds vs. State of Floridais about our constitutional rights to life, liberty, property, and the pursuit of happiness; rights that previous generations of Floridians have enjoyed. We want to be protected far into the future.  But that isn't happening.
The state, including our new Governor Ron DeSantis and Agriculture Commissioner Nikki Fried, want to have our case dismissed. We are disappointed that government leaders care so little about our future and the constitutional rights they have sworn to uphold.
It is frustrating to think they can push us aside.  We're seeing the impacts of climate change right now and government reports illustrate how devastating the impacts are and will be.
But in Florida, we have an energy system almost entirely based on fossil fuels, even though we know that is what is causing the problem.
Climate change and our constitutional rights cannot be dismissed. Our government is the only entity that can fix the energy system that has placed us in this dangerous situation. We need their protection, not their excuses as to why climate change is someone else's problem.
If we'd had the chance to meet the Defendants like Commissioner Fried, which we asked to do but she declined, we would ask them why they think that we don't have the right to a sustainable future in Florida – the right to life, liberty, property and happiness.
We would ask them how they think they can protect Florida's beaches, farms and forests without fighting climate change.  We would ask them why — since they are the last generation able to fix this crisis — they are looking the other way.
Instead of having to go to court to protect ourselves, we should work together to mitigate the climate crisis for all Floridians.
We know that Florida has a huge opportunity to be a leader by protecting children from climate change.  But only 3.1 percent of our energy comes from renewables and the state government continues to approve projects that lock in dangerous levels of greenhouse gas emissions far into the future. It is baffling that the state is so behind in renewables and energy efficiency while we are the state most affected by climate change.
Knowledge is power. We need to create a science-based climate recovery plan for our state now and that is what we seek in our lawsuit. But our leaders are not thinking about solutions and we are frustrated by that.
The fact that denial and greed from oil companies and utilities can overcome what's best for future generations is terrifying and that is why we have gone to court.
Just because we are young does not mean that we do not have power. It does not mean that we do not have the right to protect our rights to a stable climate system and a future life in Florida.  This is our home. If we don't have a stable climate, we don't have anything.
We are taking a stand. We are fighting not just for our future, but for future generations. Even though our government is fighting us, we will not give up on this great state we call home.
"The Invading Sea" is a collaboration of four South Florida media organizations — the South Florida Sun Sentinel, Miami Herald, Palm Beach Post and WLRN Public Media.