By Florida Rep. Anna V. Eskamani
Our country and state are at a turning point. Citizens are demonstrating for Black lives and police reform, more than 157,000 people have died from the coronavirus and tens of millions of workers are unemployed. And communities of color are facing the brunt of these crises.
In Florida, over 7,100 people have died from COVID-19 and there have been more than 1.81 million jobless claimants during the pandemic, many struggling to secure unemployment benefits as we wait to see if Congress will renew the much needed $600 weekly federal payments.
Regardless of political affiliation, all Floridians want a safer and healthier state with a growing economy, one where every person can prosper. Our priorities as a community are deep and complex — we must save lives, stop the spread of COVID-19, support small businesses and ensure housing security.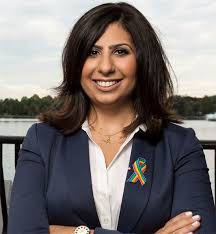 We also must create an economy for the future where all people can thrive.
We have a chance to rebuild a better America and Florida than we had before. Not an economy that runs on the backs of working people being paid low wages, but one that is diverse and resilient.
As Congress debates how our nation will recover and repair our coronavirus-battered economy, we should be leading with the industries that show the greatest potential for growth to help families recover. Clean energy is one of those industries.
I am proud to be a leading advocate for Florida's environment and to be combating climate change within the Florida Legislature. For the past two years I have sponsored bills for Florida to be 100% renewable-energy-based by 2050.
I have also taken on the Public Service Commission by demanding robust energy-efficiency goals for utility companies to meet, versus their staff's recommendation of completely eliminating these goals.
During the Great Recession, Congress made investments in clean energy that helped to create hundreds of new American businesses and nearly one million jobs. Before the coronavirus took down the economy, clean energy was one of the nation's strongest sectors, growing 70 percent faster than the economy as a whole.
As elected officials in Washington debate which sectors to bolster, we must lift up resilient job-creating industries that show the most potential for positive impact and rapid growth in all 50 states. That is exactly why we should be leading with investments in clean energy.
There are many ways to create jobs and strengthen our environment all at the same time. For example, renewables like solar and wind create more jobs per unit of energy delivered than coal or natural gas. A 2009 study demonstrated that $1 million in stimulus spending on oil and natural gas generated roughly five jobs, but that same amount of spending would result in 13 to 14 jobs for wind and solar.
Jobs wouldn't just come from building new solar and wind farms, either. To support the influx of energy from renewables, the nation's energy grid would need to grow twice as large and become less centralized. We would also see a growth in energy-efficiency jobs, not only reducing our nation's carbon footprint but reducing costs for individual rate payers too.
Investing in clean energy is not just an economic issue — it's also an issue of environmental justice.
In the United States and around the world, vulnerable and marginalized populations like people of color, indigenous people, the elderly, children, and those with lower incomes are hit first and hardest by the climate crisis. We see this in Florida with low-air quality in redlined communities surrounded by highways, and with the devastation caused by severe weather systems like Hurricanes Michael, Maria, and Irma.
Oftentimes, these communities intersect with those hit hardest by COVID-19. In fact, coronavirus is deadlier for people with conditions caused by air pollution, and African Americans have disproportionately high COVID-19 death rates and are more likely to live in areas experiencing outbreaks.
Right now, workers in every sector of the economy need support, but low-income and Black and Brown people are facing major economic devastation, especially those who were already economically disadvantaged before the pandemic struck.
I urge Congress to be intentional about rebuilding a healthier, stronger, safer, and more equitable future for all people by supporting the growth of renewable energy. Investments in a clean energy economy would put Americans back to work, shift the balance of power away from polluting industries with big lobbying budgets, and help us meet key deadlines for climate action that scientists say are necessary to limit the damage done by climate change.
This is a challenging moment — but it's also an opportunity to set new norms for generations to come.
Anna V. Eskamani, a Democrat, represents the 47th district in the Florida House of Representatives.
"The Invading Sea" is the opinion arm of the Florida Climate Reporting Network, a collaborative of news organizations across the state focusing on the threats posed by the warming climate.