A roundup of news items related to climate change and other environmental issues in Florida: 
The future of hurricanes? 'The study clearly shows nobody in Florida is protected' | The News-Press
For the thousands still living under tarped roofs in Southwest Florida, the approaching hurricane season means more than post-traumatic stress; they're facing the next round of potentially destructive storms with even less protection than they had pre-Ian.
A new report will likely do little to ease that anxiety. The nonprofit First Street Foundation worked with prominent MIT meteorologist Kerry Emanuel on the peer-reviewed analysis, published last month. The study combined site-specific history, new wind modeling tools and topographic data to predicts risk, track and intensity of hurricanes ‒ both currently and in the coming decades.
The uncomfortable conclusion: A changing climate means damaging winds will reach well beyond the coast into Florida's heartland, said First Street founder and CEO Matthew Eby.
Environmental groups are suing the federal government over slowing protections for gopher tortoises | WUSF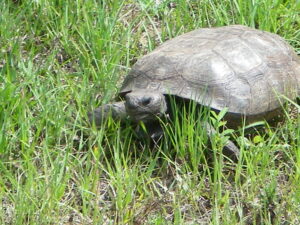 Environmental groups say they will sue the U.S. Fish and Wildlife Service for failing to protect the gopher tortoise.
Elise Bennett, Florida director of the Center for Biological Diversity, based in St. Petersburg, said federal environmental regulators had previously found the tortoises required protection, but now say they will not be listed as a threatened or endangered species.
"The U.S. Fish and Wildlife Service made some really bleak projections, including that, by 2100, we could lose nearly three quarters of remaining gopher tortoise populations," Bennett said. "That is an incredibly huge loss, especially considering that the species has been in decline for decades now."
Climate advocates say the oceans are overlooked in climate change. Biden's new action plan would change that. | USA Today
President Joe Biden released a first-of-its-kind U.S. Ocean Climate Action Plan on Tuesday, which he said will "harness the tremendous power of the ocean to help in our fight against the climate crisis."
Speaking at the White House Conservation in Action Summit, Biden said: "We can reduce emissions by building offshore wind farms, better protect our coastal and fishing communities from worsening storms, changing fisheries and other impacts on climate change."
Ocean advocates say it comes not a minute too soon.
If you have any news items of note that you think we should include in our next roundup, please email The Invading Sea Editor Nathan Crabbe at ncrabbe@fau.edu.