By John C. Capece, Campus Climate Corps
President Joe Biden struck a compromise with Congress in negotiating the Fiscal Responsibility Act of 2023. The debt ceiling was raised in exchange for giving into congressional demands to eliminate certain environmental standards for fossil fuel infrastructure projects.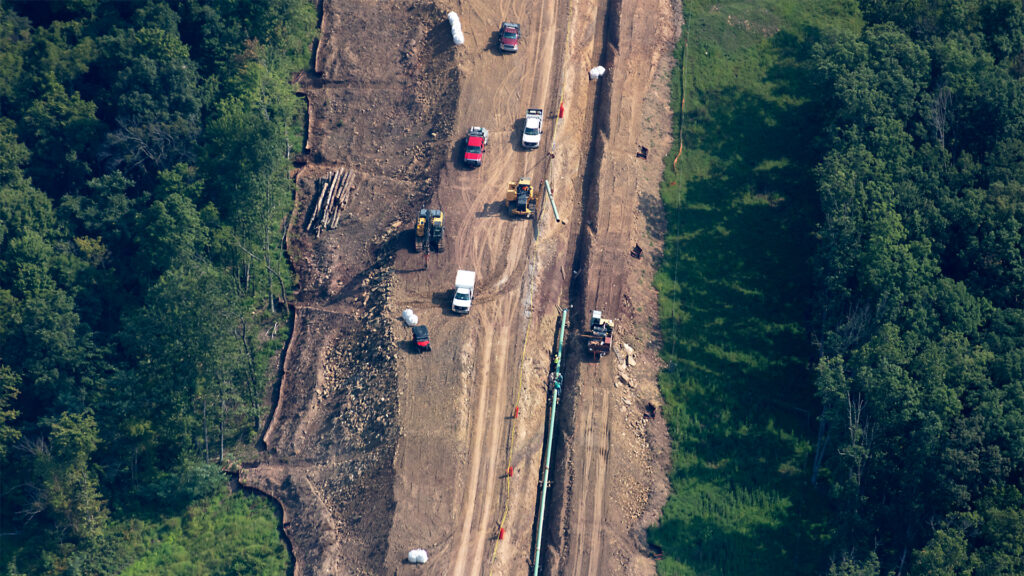 Environmental and climate advocates are rightly alarmed that the debt ceiling agreement exempts projects such as the Mountain Valley Pipeline from full judicial review, effectively gutting core environmental protections and forcing completion of this natural gas pipeline through West Virginia and Virginia. This is a lot to sacrifice environmentally.
Whereas Congress changed its position on the debt ceiling in exchange for getting what it wanted from the deal, the environment will do no such thing. The natural system will not alter its response to the injuries inflicted upon it by additional fossil fuel projects. It will respond as it has in recent decades, by degrading the life support systems upon which human society depends.
Much of our human economy is based on extracting capital (natural resources) from the environment, combining it with human capital (physical and creative labor) and converting them into products and profit. While the human labor is paid, the natural system is not.
This effectively creates a debt of human society to the natural system – a debt that must be repaid if we expect the natural system to continue supporting our lives. So, from this perspective, the debt ceiling compromise represents an agreement to increase the U.S. fiscal debt by increasing the global environmental debt.
The only way this results in a net gain for society is if the additional short-term environmental and fiscal debt can generate outcomes that pay back our environmental debts. How might the debt ceiling compromise deliver that outcome?
Short of upending our entire capitalistic economic system, the only way we will achieve a sufficiently rapid global transition to renewable energies is by driving down the cost of new sources of energy and by getting the price of fossil fuels to reflect their real costs. This combination of pricing adjustments would create an energy market in which fossil fuels simply could no longer compete. It would render the ease of securing fossil fuel project construction and operating permits a meaningless factor in energy investment decisions.
Furthermore, it would have this effect globally, not just nationally. This matters because the outcome of the climate crisis will be determined by the actions of all 8 billion people on the planet, not just its 330 million Americans.
Domestically, our government has been artificially depressing the price of fossil fuels through an array of subsidies. Estimates of U.S. government subsidies range from $20 billion to $50 billion per year. Globally, explicit subsidies are approximately $500 billion per year while implicit (hidden) subsidies could be as high as $7 trillion per year. Eliminating these supports, as the Biden budget seeks to do, would go a long way toward offsetting the effect of easier fossil fuel project permits.
Driving down the cost of renewable energies is mostly about technology and production innovation. It depends on immediate and long-term investments in research and development and, by extension, education. These are priorities of the Biden administration's climate investments, made possible by our current practice of deficit spending and, hence, a deal on the debt limit.
But what of the renewable energy projects that will also exploit the reduced permitting standards? Well, in addition to using the existing environmental protection laws, there are other ways we can help mitigate the impacts that result from rapid development of renewable energy projects.
We need to provide environmental protection in all energy infrastructure projects, even in those cases where companies owning the projects claim they cannot afford the additional costs. The government should step up where corporate economics cannot or will not. We need these protections to come at the front (preventative) end of the projects, not the back (environmental clean-up) end.
There are pathways to climate and environmental solutions that can be pursued within the Biden debt ceiling compromise. But they require our government to make substantially greater investments in science and technology aimed at driving down the cost of carbon-neutral energy and investments in educating and supporting the people who must achieve and sustain those advances. This includes everyone participating in an economy that is more reasonably balanced between investment and consumption.
John C. Capece, PhD, is director of Campus Climate Corps. He lives in LaBelle.
If you are interested in submitting an opinion piece to The Invading Sea, email Editor Nathan Crabbe at ncrabbe@fau.edu. Sign up for The Invading Sea newsletter by visiting here.