Floridians care deeply about our natural environment – our beaches and shorelines – which underpins both our quality of life and our state's economy.
Year after year, as our state increasingly confronts the reality of a changing climate, with supercharged hurricanes, sea-level rise, imperiled coral reefs and increased flooding, we are reminded of just how precious – and vulnerable – these resources are.
As state representatives from two parts of our state that are exposed to the risks and effects of climate change – Tampa Bay and the Keys – we know firsthand how important it is to plan and be prepared for a future with even more severe impacts. That includes examining the extent of the threats to our communities, including how much it will cost Florida taxpayers to address them.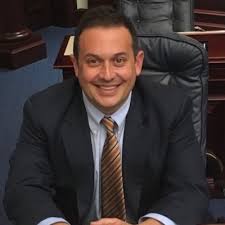 That's why we – a Democrat and a Republican – have come together to work across the political aisle to co-sponsor House Bill 913, legislation that would create a much-needed Florida Climate and Resiliency Research Program to assess the effects of climate change on our state's environment, resources, health, economy, and so much more.
We echo what our colleague Speaker Designate Chris Sprowls said in his remarks when elected to lead the Florida House beginning in the 2021 session: "We need to stop being afraid of words like 'climate change' and 'sea-level rise.' Floridians want to know we are working on practical ways to mitigate the risks of flooding in our coastal communities."
The program we are proposing would serve as a framework for elected officials, nonprofit leaders, scientists, and other community leaders to work together on building a stronger, more resilient Florida. The group would develop plans to tackle sea-level rise, coastal erosion, and other issues, and its findings and recommendations would be presented to the governor and leaders of the state House and Senate.
Importantly, the bill – along with its Senate companion SB 1232 by Darryl Rouson – would also assess the financial risks of climate change and the ever-growing costs of adapting to the damage.
This is no small matter. Florida citizens are already paying for rising insurance rates and improvements to their homes and businesses in the aftermath of the latest hurricane season, and local governments are grappling with millions of dollars in projected costs for elevating roads and restoring aging sewer and canal systems being overburdened with extreme rain.
Across the state, coastal erosion and the loss of beaches present a harrowing future for economic staples like our ports, our tourism and real estate industries.
To date, unfortunately, we have operated in the dark about what these scenarios will collectively mean for our state's budget – and you, the taxpayer. We already know some of these costs will be huge.
One study from the Center for Climate Integrity estimates that Florida will have to spend more than $75 billion on seawalls to protect infrastructure, property, and lives against sea-level rise – more than any other state in the nation.  With more than 1,200 miles of coastline in Florida, we cannot turn a blind eye to such looming expenses.
Florida sits at ground zero of the climate crisis, and we now have to grapple with the consequences. Regardless of what path we choose, it is going to take all of us working together to navigate these complex challenges in the years and decades ahead.
But first we need to understand what is at stake for Florida, and how much it will cost. That's why we hope our colleagues in the legislature will lend their support to HB913 and the creation of the Florida Climate and Resiliency Research Program. 
Florida State Representative Ben Diamond represents District 68 in St. Petersburg and Holly Raschein represents District 120 in Monroe County and parts of Miami-Dade.
"The Invading Sea" is the opinion arm of the Florida Climate Reporting Network, a collaborative of news organizations across the state focusing on the threats posed by the warming climate.