By John Burr, Resilient Jax
The blunt warning from a Republican Jacksonville city councilmember, in a city known as a Florida laggard in climate change awareness, was a watershed moment.
"The greatest danger that Jacksonville faces is flooding, from the immediate threat posed by intense tropical storms to the steady increase in sea levels," Randy DeFoor told the Jacksonville City Council in February, in her introduction to a 100-plus page report on the city's resiliency needs.
"With our 1,000 miles of riverfront and oceanfront, resiliency begins with keeping water out of our neighborhoods," she said. "It's a multi-billion-dollar fight that will be waged over decades to protect the city from the changing climate."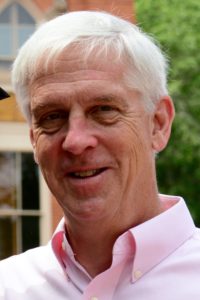 In late April, the Jacksonville City Council officially accepted the report written by a committee made up of concerned residents and government officials that met for 14 months.
The report is largely seen as a to-do list for the city's incoming Chief Resiliency Officer, who is expected to be hired this summer. Jacksonville is the last major city in Florida to hire a CRO, who is seen as a coordinator and clearing house for the city's responses to climate change.
Climate change threats and protections contained in the report checklist include:
Without a quick reduction in fossil fuel emissions, Northeast Florida could see up to 7 feet of sea-level rise by 2060, according to the U.S. Army Corps of Engineers.
Property insurance rates are sure to increase quickly in the next 10 years, especially on older buildings. The city needs to change building codes to encourage new construction designed to survive flooding.
Social justice and equity should be factored into all the resiliency programs to make sure protections are not skewed toward the affluent and politically connected.
The city should pursue sales tax increases and general obligation bonds to begin to pay for resiliency protections while seeking state and federal funding. Stress green infrastructure projects over hard structures such as seawalls where appropriate.
Jacksonville's climate change awakening occurred after September 2017 when Tropical Storm Irma crept up the state's west coast and dumped torrential rains that washed down the St. Johns River from Central Florida, while simultaneously storm surge came in from the ocean. The result was a watery squeeze play and massive flooding across the city, especially in Downtown and surrounding neighborhoods.
Still, this conservative city has been slow to adapt.
Skeptics point out that while the Republican Mayor Lenny Curry has agreed to hire a city resiliency officer, the position is embedded (some would say buried) in the city planning department.
As such, the job lacks the bureaucratic chops and supportive funding that city council supporters say is necessary to become an over-arching platform to coordinate the city's climate change defense. Supporters of resiliency action are pushing for staff and additional money for the resiliency officer.
There are other reasons to worry that the city's climate change response may not be sufficiently robust. The city is infamous for blue-ribbon task force reports that are ignored by policymakers.
"Jacksonville has this reputation for producing a lot of reports that don't ultimately materialize into policy," University of North Florida professor Josh Gellers told NPR affiliate WJCT. Gellers was on the special committee that wrote the resiliency report.
Councilman Matt Carlucci, who helped chair the special committee and is a candidate for mayor in 2023, pledged that would not happen this time.
"This will not sit on a shelf," Carlucci has said. "This will sit on my desk and we will pass it on to the Chief Resiliency Officer."
John Burr was a resident expert on the Jacksonville Special Resiliency Committee and is a steering committee member of Resilient Jax.
"The Invading Sea" is the opinion arm of the Florida Climate Reporting Network, a collaborative of news organizations across the state focusing on the threats posed by the warming climate.