An interview with Alec Bogdanoff, principal scientist and co-founder of Brizaga.
 As part of its series "The Business of Climate Change," which highlights the climate views of business men and women throughout the state, The Invading Sea spoke with Alec Bogdanoff, principal scientist and co-founder of Brizaga.
First, can you tell us a little bit about your company Brizaga and what it does?
Brizaga is an interdisciplinary civil and coastal engineering firm that was specifically founded to help our community start addressing the challenges of more frequent flooding and sea-level rise, which is the most obvious sign for our community of climate change.
Ultimately, we work with the private sector, the public sector, not just helping them think through solutions but also how you communicate those solutions—that's a really important part of what we do.
It's not just taking science and engineering (into account), but also thinking about: how do you build the public will around action? Because unless we have the public support alongside these great plans, they're not going to go anywhere.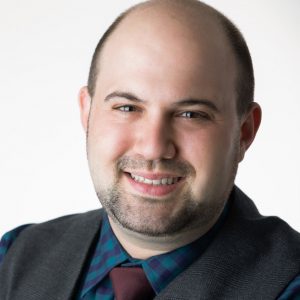 As a Florida native as well as a meteorologists and oceanographer, what kind of climate-related changes have you witnessed in Florida?
Well, most of us now know the word "king tide," which definitely wasn't something we talked about when I was a kid. Places like Hollywood, Miami Beach, Fort Lauderdale, all of actually coastal South Florida have been talking about this for years now.
We're beginning to see a lot of other parts of the state talk about this as well, so I think right there and then is a prime example of how our community's already facing that. Also, you know, a lot of folks are talking about that it's getting hotter. We're going to experience more hotter days, more days of 95-plus 100-plus-degree heat, and for those of us who have lived in Florida our whole lives know that August isn't necessarily a fun month to be outside. And, unfortunately, we're going to see more months feel like August in the future.
In your opinion, how are things looking in Florida right now with regard to sustainability and resilience? What does our future look like?
Well, I say this a lot, that I just believe that as Floridians there's nothing we can't do when we roll up our sleeves and work together. And I think that South Florida is a perfect example that climate change and resilience, sustainability, they're not partisan issues.
These are issues that this community is solving. I can't stress enough that we are not only leading the charge but also have some of the greatest challenges. A perfect example of that is the Central and Southern Florida flood control system, which the business community has really become a strong advocate of taking on the challenge of fixing it.
This is that series of berms and levees and canals all over that really protects our entire community. And, frankly, we need to fix that, and so we have challenges as a community and we can raise roads and increase our stormwater system and we're doing a lot of that, but we also need to have a serious conversation about the fact that our fate as a community is also tied in the hands of the state and federal government.
How can businesses and individuals better prepare themselves for the challenges ahead?
The first thing they can do is understand their flood risk now. I always tell folks, you know, it's a little bit of triage, right? You want to fix the problems you have now before you start thinking about those long-term challenges.
So, understand your flood risk, understand what it means for you now. And then you can start thinking about what it looks like in the future.
There's a lot of really cool free tools out there like Flood Factor that you can use to just understand what your flood risk is, but knowledge is the first step. Then from there we can start talking about solutions.
There's a lot you can do. But ultimately, this isn't something that we can just do sometimes. We have to include this into every decision we make. We need to say to ourselves: how will sea-level rise affect this decision? How will climate change impact this asset?
Because ultimately—I'm an oceanographer. I don't care how big the hole in the boat is; there is still a hole in the boat. And so, ultimately we have to make sure that we ingrain resilience and sustainability into everything we do.
What should the Florida Legislature be doing to address climate change and sea-level rise? Is the government doing enough?
They are doing a lot. We just saw monumental legislation pass both the House and Senate. That's a great, great step forward. Folks kind of want to say, "this is the answer."
Well, there is no answer. There's no silver bullet to this challenge. This is going to take sustained effort for decades, and the reality we need to accept is, that's great, we're going to take these wins—and these are huge wins—but we're going to need not just one win.
We're going to need a series of wins. And as a Dolphins fan, I hate to say this, but we need kind of a Patriots-level approach to this. We need to figure out how to get Super Bowl after Super Bowl.
Alec Bogdanoff, Ph.D. is the principal scientist and co-founder at Brizaga. He serves as the Chair of the Resilience Council for the Greater Fort Lauderdale Chamber and Co-Chair of the Resilience Committee for ULI's Southeast Florida District Council.
"The Invading Sea" is the opinion arm of the Florida Climate Reporting Network, a collaborative of news organizations across the state.