By John Burr, Resilience Jax
The Invading Sea contacted three women from Florida who are attending the United Nation's COP26 conference in Glasgow Scotland. Here's what they hope to accomplish.
Solemi Hernandez
She has been to one prior COP conference, but this one has special meaning for her.
Her mission at Glasgow is to help implement Article 6 of the 2016 Paris Agreement, which calls for member countries "to enhance climate change education, training, public awareness, public participation and public access to information."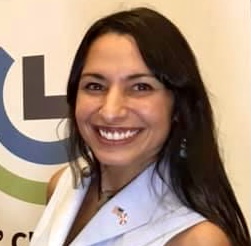 To do that, Hernandez will help run The People's Pavillion, described as "a virtual space for people from around the world to interact with and  share their vision for a climate-smart future directly into the climate talks space."
To get updates on the conference and network with participants, register for the pavilion at http://peoplespavilion.org.
Hernandez believes education and training of local people will grow public awareness of the dangers of climate change. When people become more aware, she believes, action will follow.
"The public needs to be part of the solution," she said. "If we don't get the public behind us, nothing will happen."
The City of Orlando, which has listened to and educated residents on a variety of subjects – among them clean energy, local food, transportation and clean water – is doing things right, she said, and that approach of engaging people needs to spread across the country.
From her community work in Naples and across the Southeast U.S., Hernandez says she's heard major concerns over water quality and heat.
"The heat, it's bad, so bad that my kids can't even play outside," she said.
"We want public participation in the (COP 26) negotiations, make the COP an open COP for the whole society, and have the community be part of the climate solutions."
Miami-Dade Mayor Daniella Levine Cava
She introduced her administration's updated climate change strategy at a press conference Oct. 28, just before heading to the COP 26 conference.
It's an aggressive plan, with headline carbon emission reductions of 50% by 2030, and carbon zero by 2050. She said the targets "are a definitely, not a try."
Levine Cava will be speaking as a member of the intergovernmental panel at the conference. She said she will hear and share ideas from "not only elected officials but business leaders, nonprofit leaders, citizens and scientists from all over the world."
In her presentation, the mayor stressed the economic benefits that Miami-Dade will capture by pursing green initiatives in transportation, construction, energy generation and conservation.
"We can spark an economic boom in our community and in the country. We are focused on investing in infrastructure projects and producing clean energy, she said.
"We are going to create high paying jobs and create opportunities for tens of thousands of local businesses while reducing climate pollution."
The mayor also reminded her audience that the climate emergency touches everyone, and will require a unified response.
"In Glasgow, we are going to ask the world to stand with us," she said. "We've set in motion steps required here in Miami-Dade County, but our fate is interconnected with the rest of the planet and we cannot go it alone. It takes all of us."
Julieta Rodrigo
She intends to employ a voice of urgency when she arrives in Glasgow.
"I think the main message I want to send is that we are tired of being disappointed. People have been telling us for decades that they take the climate crisis seriously but they are not putting in the effort urgently enough to make a real difference," she said.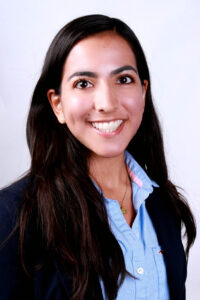 "The leaders are working with timelines that are too delayed. This delayed action shows to us that people's lives are less important to them than the state of the economy and corporate interests."
She intends to tell the stories of the people of color that she works with in Miami. These are people who are often not heard by the people who make the decisions that affect society.
"The stories I want to communicate are about the humanity these climate impacts, how the heat is impacting our outdoor workers, the people in construction or agriculture," she said. "The people in South Florida who are dependent on public transit and have to wait at bus stops with no shade."
Rodrigo will be speaking on several panels at COP26, as well as attending workshops and networking. She is committed to ACE, or Action for Climate Empowerment, a blueprint that came out of the 2016 Paris conference to train people to be involved in climate decisions.
That's important, she said, because too often people of color are left out of climate discussions.
"You hear that everyone is in the same boat when it comes to the climate, but that's not true," Rodrigo said. "Some of us are on yachts, some of us are on jet skis, some are on paddleboats, and some of us can't swim. We may all be in the same storm but we aren't in the same boat."
Solemi Hernandez is the Southeast Regional Coordinator for Citizens' Climate Lobby, representing CCL volunteers in Florida, Alabama, Georgia, and the Carolinas. CCL is best known for its promotion of carbon tax legislation.
Daniella Levine Cava was elected Mayor of Miami-Dade County in November 2020. A social worker, lawyer, and community activist, she was elected twice as the Miami-Dade County Commissioner representing District 8. 
Julieta Rodrigo is a program manager for The CLEO Institute, based in Miami, where she works in education and training. She will be moving to Maryland after the COP26 conference to do environmental work on the Chesapeake Bay.
John Burr served on the Jacksonville Special Resiliency Committee and is a steering committee member of Resilient Jax. 
"The Invading Sea" is the opinion arm of the Florida Climate Reporting Network, a collaborative of news organizations across the state focusing on the threats posed by the warming climate.