By Matt Haggman
Miami's economic future is a talent and sustainability game. 
Many factors will play a role in the jobs and economic growth that define Miami in the decades to come. But, peering over the horizon, it's on the playing fields of talent and sustainability that Miami's future will be won. 
The world is transitioning to a net-zero economy that adds no more greenhouse-gas emissions into the air than it removes. This is often framed as needed to address an existential threat, and it is — as Hurricane Ian tragically demonstrated. But it's a transition that also presents the opportunity of our lifetime.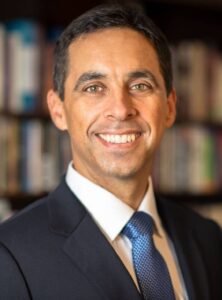 Decarbonizing our economy will create countless new industries, companies and jobs. The places "that build great zero carbon companies and industries will be the ones that lead the global economy in the coming decades," Bill Gates wrote in his book "How to Avoid a Climate Disaster." 
Miami has the opportunity to be one of these places — indeed, to be a leader.
Meanwhile, COVID triggered a vast reevaluation, from rethinking what we do for work to where we call home. People have the freedom to be where they want. Many are choosing Miami, which already boasts a cosmopolitan mix that's hard to match. Across Miami-Dade County, 54% of the population was born outside the United States, and 87% is Hispanic or Black. 
"Miami has the opportunity to build a uniquely diverse, highly qualified and skilled workforce," said Jamie Merisotis, CEO of Lumina Foundation, among the biggest private foundations funding post-high school learning. He spoke recently at the Beacon Council's inaugural Opportunity Miami event with the Academic Leaders Council, composed of Miami-area university and college presidents and the superintendent of Miami-Dade County Public Schools. 
"By solving problems here, you can solve problems our entire country must come to grips with," Merisotis added.
Miami's biggest challenges present our greatest opportunities. 
That's why we launched Opportunity Miami: to create a platform to elevate ideas addressing questions pivotal to our economic future, engage across the community and share solutions to help our community make better decisions faster. After all, these challenges won't be solved within an election cycle or by one institution. 
Miami can build this future. Its history is defined by charting new paths.
Think of the redevelopment of Miami's urban core over the past two decades as neighborhoods like Brickell, Midtown and Wynwood revitalized. Or the growth of Miami's cultural life with the arrival of Art Basel in 2002 and the opening of four new museums and three new performing arts centers from 2006 to 2019. 
Or 10 years ago, my former colleague Ben Wirz and I created and built the program at Knight Foundation focused on building a tech community in Miami. The bet was that talent and funding would become more mobile, creating opportunities for cities like Miami to emerge. 
The point is this: Miami can change in big ways. And the betting here is that, as we think about what's next, building a net zero economy and developing a uniquely skilled, diverse workforce are areas to double down.
There's work to do. Merisotis noted, for instance, that 42% of Miami-Dade County residents have an associate's degree or higher — below the national average. But there's a foundation to build upon. 
Miami's educational ecosystem includes the country's largest and most diverse campus-based college, the fifth-largest public research university, a top 50 university and among the oldest of HBCUs. Furthermore, an array of entrepreneurial efforts supporting non-traditional education are underway. 
It's early days for Miami's climate tech scene. That's true for most cities, and Miami has compelling ventures underway.
Miami Beach-based Blink is the second-largest electric-car charging network company in the country. The largest indoor aquaculture facility in the world, Atlantic Sapphire, is in Homestead. The biggest air-conditioning distributor in North America, Watsco, is based in Coconut Grove and has thrown itself into reducing carbon emissions. 
Miami's challenges range from housing affordability and transportation to income inequality. And many technologies are poised to shape our future — including artificial intelligence, blockchain and the metaverse. 
But the shift to net zero and building a skilled, diverse workforce cut across every part of our economy and offer unique possibilities. 
A decade ago, venture capitalist Marc Andreesen wrote in The Wall Street Journal that "software is eating the world." The thesis: Technology would invade every part of our economy. 
He was right. 
The same forces are at work today. But talent and sustainability now are poised to shape every part of our economy, offering cities the chance to again dramatically remake themselves. 
Miami can lead this change. 
Matt Haggman is executive vice president of the Miami-Dade Beacon Council, where he leads Opportunity Miami. He wrote this piece for The Miami Herald, which is part of the Invading Sea collaborative of Florida editorial boards focused on the threats posed by the warming climate.