A roundup of news items related to climate change and other environmental issues in Florida: 
If April showers bring May flowers, why are blooms appearing so early? Climate change. | USA Today
Daffodils, violets and other flowers are arriving early in many gardens and fields this spring, unfurling lovely colors and shedding light on how plants are adapting to climate change.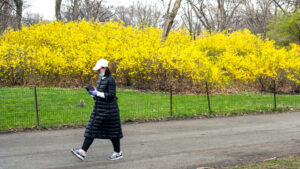 Observers are reporting very early leaf outs of the common lilac in Pennsylvania, the brilliant yellow blossoms of forsythia in Maine and American witch hazel in New York, said Theresa Crimmins, director of the USA National Phenology Network at the University of Arizona.
Ecologist Matt Austin examined more than 140 years of pressed flowers and plants in the Missouri Botanical Garden collection to track how violets changed over time. He found the flowers — widely known as one of the first harbingers of spring — are responding to both increased rainfall and warmer temperatures.
How climate change will impact the kinds of trees that can survive in your Florida yard | WUSF 
A new interactive map shows how climate change will affect plant hardiness zones in Florida, as people will soon have to plant different tree species in their yards and parks. 
The U.S. Department of Agriculture already puts out what's called a plant hardiness zone map to help people understand which trees and plants are best suited for the region in which they live. 
Dan Lambe is the chief executive of the international nonprofit Arbor Day Foundation, which partnered with Davey Tree Expert Company to combine that information with global warming data to create another map showing plant hardiness zones from 1980 through 2099. 
Miami Beach hybrid reef could help Florida coasts battle climate change | WLRN 
A new manmade hybrid reef being tested off Miami Beach aims to do what climate change has increasingly foiled: provide a powerful protector to storm surge and rising seas hammering Florida's shores. 
If successful, the University of Miami Rosenstiel-designed reef could become part of a larger U.S. Department of Defense project to better armor parts of the state. 
"This is to see if we can do it, if we can do it better than alternatives, and if we can do it better for the same price," said Andrew Baker, a coral biologist and member of the UM team overseeing the project with Miami Beach. "An important part of this is [that] we can't come up with an incredibly expensive solution that is going to protect a small area of coastline at great cost. This has to be scalable." 
If you have any news items of note that you think we should include in our next roundup, please email The Invading Sea Editor Nathan Crabbe at ncrabbe@fau.edu.