By Will Charouhis
Last weekend, I had the once-in-a-lifetime opportunity to listen as Dr. Jane Goodall, returning to the United States in what may be one of her final tours, regaled a capacity crowd at Florida International University with her life story.
At age 26, Goodall made the groundbreaking discovery that chimpanzees have similar social behaviors to humans. Her life's work forever transformed human understanding of our relationship with the rest of the animal kingdom.
Listening to her, I was awed. Goodall remains the trailblazer who inspired many of us to do our elementary school biography presentations on her life's work.
A U.N. Messenger of Peace and the founder of the Jane Goodall Institute, Goodall is a world-renowned ethologist and conservation activist. Her transformative research began 62 years ago in Gombe Stream National Park, Tanzania, and continues today as the longest-running wild chimpanzee study in the world.
Her findings insist we acknowledge that "we are not the only thinking beings on the planet," she said.
In 1977, inhumane animal research and animal trafficking compelled Goodall to transition from research to activism. She founded the Jane Goodall Institute, advocating across the globe for animal rights, environmental education, conservation and reforestation.
In 1991, Tanzanian youth gathered under the night sky on her camp's wooden porch in Gombe, expressing how powerless they felt against the problems in the world around them. Goodall taught them a message that still inspires today: "The solution is right in front of us. It is within our power and our will to create change."
From that, the Roots & Shoots program was born, empowering youth to take action in our communities to better the world around us. Her program, now 97 countries and more than 63,000-youth strong, has created a path for her ideals to live on.
Her life's work stands as a testament that "the youth are not only the future – they are the present and they are changing the world," as she said.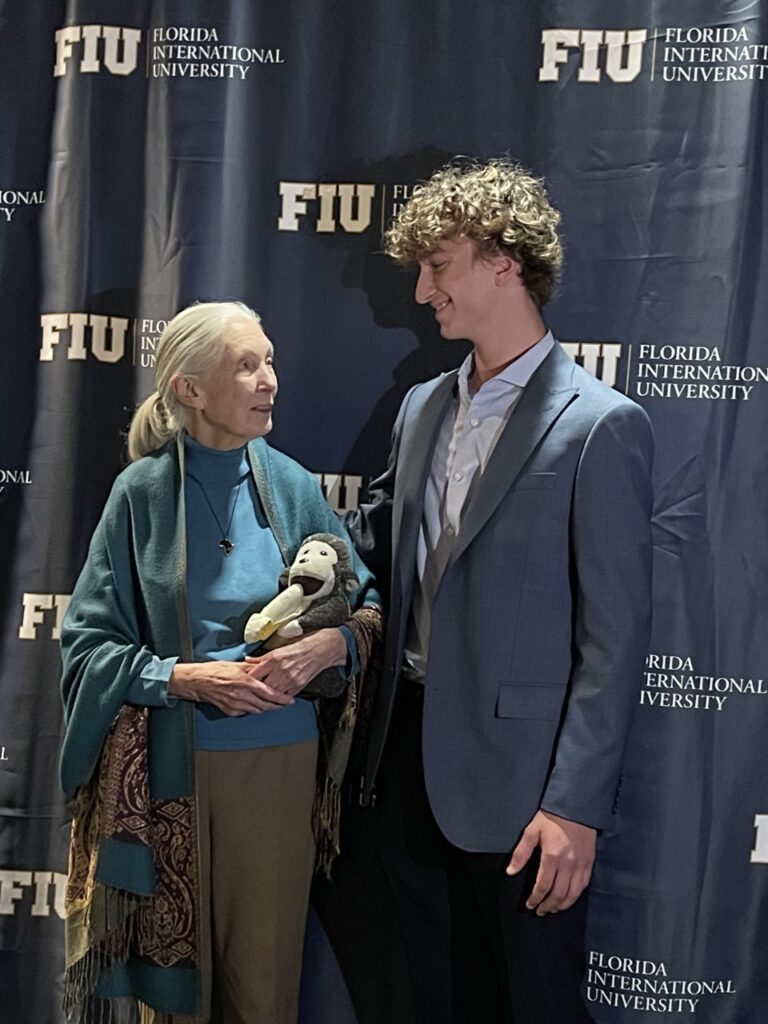 At 88, she still asks questions. "How do we alleviate poverty so people can make the right choices and stop destroying the environment?" "How do we get consumers to realize they don't need all the stuff they accumulate?"
And she lays bare the essential question: "Our brain is more evolved than chimps; we have language, we have electronic communications, we have put people on the moon. How is it then that the creature with the most extraordinary intellect ever is destroying its own home?"
Though her voice is low, her strong words boomed through the lecture hall in Miami: "Unending economic growth will collapse society." Six words, none truer, none more unappealing to a growth-oriented society.
Goodall acknowledged the outlook now for us is grim. But she ended with what she does best: She gave us hope, reminding her audience that "through care and time, nature can come back."
Afterward, she invited a small group of youth to speak with her, reminiscent of the days on her front porch in Gombe. We shared our fears and hopes for the planet. Recalling the incredible beauty of the Tanzanian night sky, she turned off the lights, called us by name, and listened.
In that moment, we didn't solve the climate crisis or reverse the ecological collapse happening around us. But as we talked, we realized she is right: "We each have the power to make a difference. It is up to us to choose what difference we want to make in this world."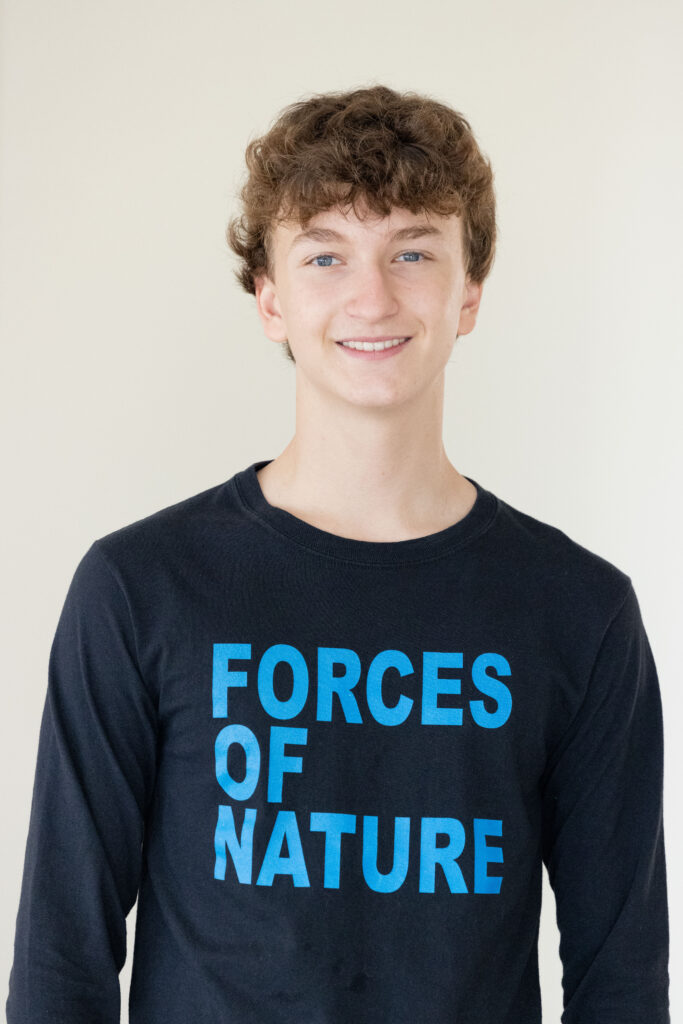 Goodall remains a global icon, spreading hope and turning it into meaningful positive change to create a better world for people, other animals and the planet we share. Her story represents the promise of change for the better that exists in science and perseverance.
As I headed into the evening traffic after the event, I looked up at the blazing lights of Miami drowning out the stars in our night sky. Our city is a lifetime away from Gombe.
Reminded that Miami is ground zero facing sea-level rise in America, Goodall's words rang in my ears: "If you really want something, you're going to have to work awfully hard and take advantage of every opportunity."
Will Charouhis is a 17-year-old environmental changemaker from Miami who founded the nonprofit We Are Forces of Nature the year he became a teenager after Hurricane Irma flooded his city. He serves on the USA Roots & Shoots National Youth Leadership Council for The Goodall Institute, leading the project "A Million Mangroves: Halting Climate Change One Root at a Time."