By Sarah Paulos, Interfaith Power & Light
All major faith traditions call on their believers to be good stewards of Creation and to care for their neighbors — especially those in our community most impacted by environmental injustice. Faith communities have the moral authority, based on their religious principles, to lead the conversation about healing our climate — and they are stepping up and speaking out in greater numbers every year.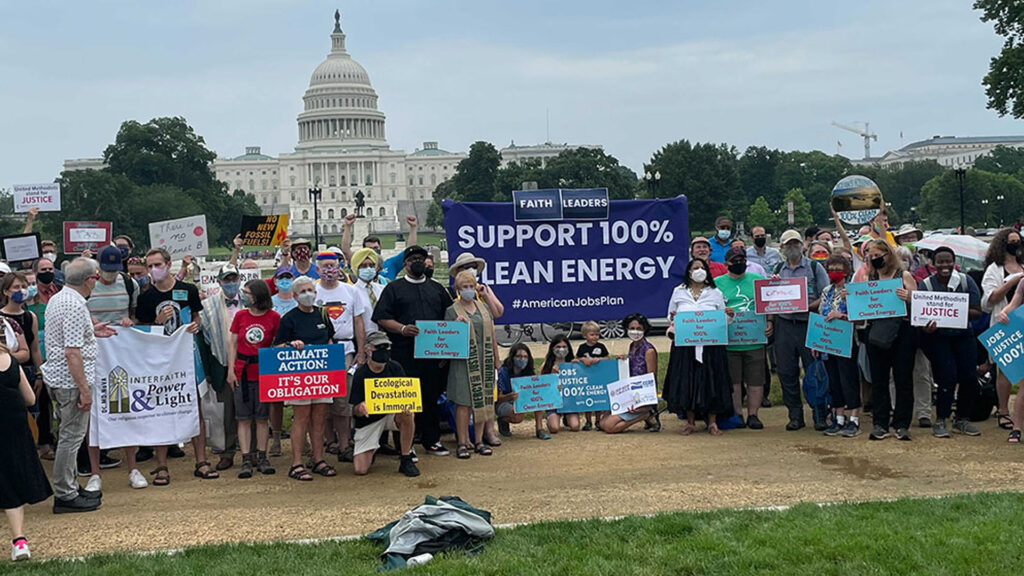 Interfaith Power & Light (IPL) is a nonprofit organization working with 22,000-plus congregations in all 50 states to inspire and mobilize people of faith and conscience to take bold and just action on climate change. IPL and its network of 40-plus state affiliates advocate for climate justice policies, run get-out-the-vote campaigns, assist congregations in reducing climate change pollution from their own facilities and educate about climate justice.
Faith Climate Action Week — this year, April 14-23, 2023 — is Interfaith Power & Light's premier week to teach, preach and act to heal the climate. Congregations offer sermons, worship services, educational events and hands-on action to show that people of faith are leading the way to heal our climate.
It is a 10-day period of activities in celebration of Earth Day. Faith Climate Action Week has reached close to 2 million people with more than 5,000 climate and Earth stewardship sermons and talks nationwide.
The theme of 2023's Faith Climate Action Week is "Living the Golden Rule: Just Transition to a clean energy economy" — examining our moral responsibility to transition to energy sources that safeguard our common home and provide just solutions for all.
Click on the links below to use IPL Resources below for your Earth Week activities!
IPL offers a resource kit to equip you to lead faith-based discussion and action at your congregation to safeguard a thriving Earth for everyone in our communities.
It includes an Action Guide with information on the faithful call to care for our neighbors by ensuring a just transition to a clean energy economy, where the well-being of workers and frontline community members are prioritized. Also, there are short film suggestions, an updated climate change fact sheet, faith-based discussion materials, including a colorful multi-faith Golden Rule poster, and suggestions and resources for how to engage in supporting local action.
IPL has collected resources to plan worship services — music, prayers, blessings, youth and children resources, and more. Also, find sermon prompts and sample sermons, and excellent advice on preaching about climate change. And we have faith-specific resources, including faith statements on caring for the Earth and study guides from many traditions.
Hosting a movie screening is a great way to spark discussion and inspire your congregation to take action as part of your Faith Climate Action Week activities. This year's film is a series of 3 short films, "Current Revolution," by the American Resilience Project. These films show the exciting possibility of a just transition to a clean energy economy where the well-being of workers and frontline community members is valued instead of neglected.
IPL is hosting a webinar conversation with the filmmaker on April 17 at 11 a.m. Pacific.
Join the National Climate Prayer for Earth Day. Across the nation, people of all faiths will join their voices together to pray for action on climate change on Earth Day at 12 noon local.
People of faith and conscience are united by their concern for the well-being of all members of our communities, especially those who are suffering the worst impacts of a changing climate. They are working together in increasing numbers to care for our common home — out of love for their children, grandchildren and all future generations.
Contact programs@interfaithpowerandlight.org.
Sarah Paulos is community engagement and program director with Interfaith Power & Light.
If you are interested in submitting an opinion piece to The Invading Sea, email Editor Nathan Crabbe at ncrabbe@fau.edu.