Climate Change Consensus Endures in Florida
Seventh Wave of FAU's Florida Climate Resilience Poll Tracks Evolution of Florida Public Opinion
---
Highlights
As of March 2023, 65% of Floridians believe the causes of climate change are largely due to human action and 25% attribute the cause to natural changes in the environment. Nearly half of GOP-affiliated Floridians (49%) now believe humans have largely caused climate change.
52% of Floridians would be willing to pay a $10/month infrastructure improvement tax to protect their communities against climate change. Both Democrats and Republicans under the age 35 have exhibited increasing support to pay the tax (64%).
40% of Florida Republicans now support the August 2022 Inflation Reduction Act. Florida Independents have increased in their support (47%), from 41% in September 2022. Democrats are now at 78% in support of this law.
61% of Floridians are moderately-to-extremely concerned about flooding worsening due to climate change, and 68% are moderately-to-extremely concerned about hurricanes worsening due to climate change.
Almost half of respondents (47%) were impacted by flooding in the last 12 months. 67% of Floridians were impacted by strong winds caused by hurricanes or tornadoes.
Since September 2022, total support for schools to teach about climate change has increased among Democrats to 92%, remained consistent among Independents at 69%, and declined among Republicans at 53% in the March 2023 survey.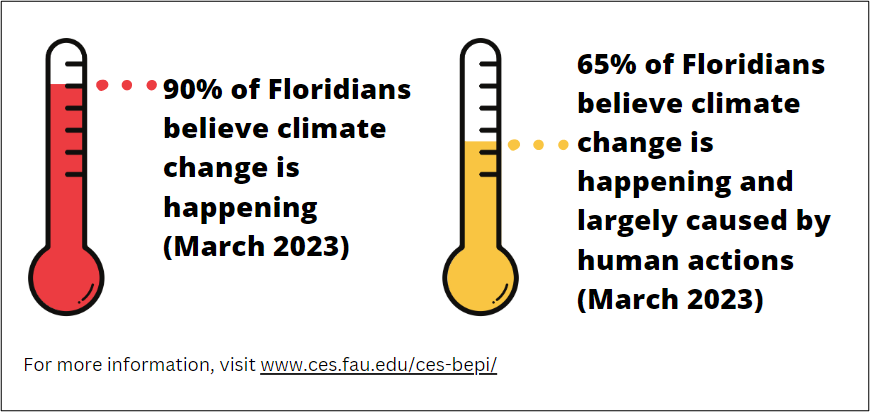 Methodology
The survey was conducted in English and Spanish on March 14, 2023. The sample consisted of 1,400 Floridians, 18 years of age and older, with a survey margin of error of +/- 2.62 percentage points. The data were collected using an online panel provided by GreatBlue Research. Responses for the entire sample were weighted to adjust for age, race, income, education, and gender according to the 2020 U.S. Bureau of the Census American Community Surveys. It is important to remember that subsets carry higher margins of error. For more information, survey results, and full cross-tabulations, visit www.ces.fau.edu/ces-bepi/ or contact Colin Polsky, Ph.D., at cpolsky@fau.edu.
Editor's note: FAU's Center for Environmental Studies manages and provides financial support for The Invading Sea.