A roundup of news items related to climate change and other environmental issues in Florida:
A good seaweed surprise for Florida: Floating mass has actually shrunk, reasons unclear | Miami Herald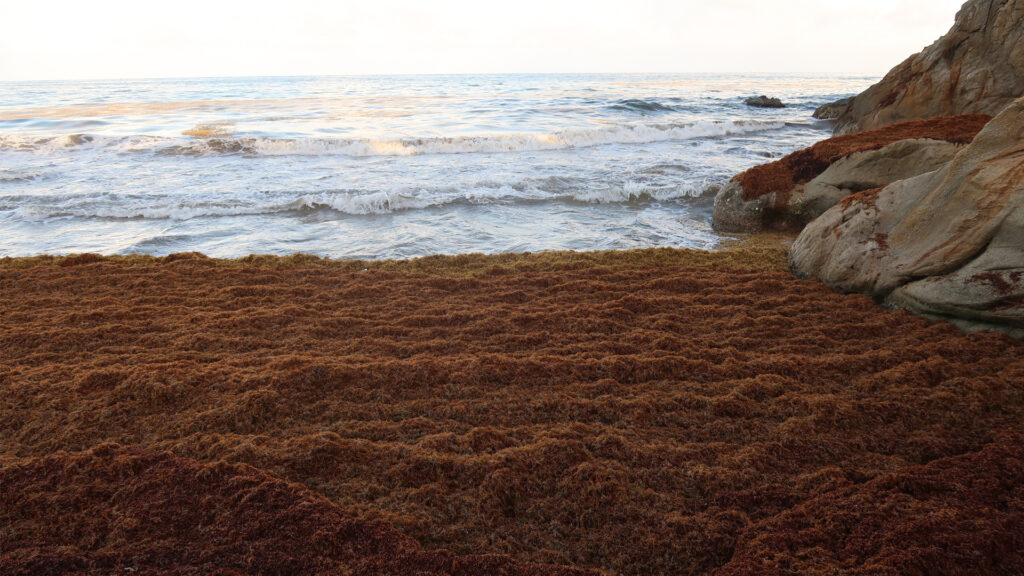 South Florida beaches — and all the people who flock to them — may catch a break from a much-hyped and dreaded onslaught of seaweed this summer.
Scientists have spotted a mysterious decline in the 5,000-mile wide seaweed belt floating across the Atlantic Ocean and Caribbean Sea. The drop won't be enough to keep beaches seaweed-free, but it did knock back what had been a record-breaking seaweed bloom.
The Great Atlantic Sargassum Belt — the scientific name for the massive mat of floating brown seaweed that annually washes up on beaches around the Caribbean, Gulf of Mexico and east coast of Florida — shrank 15% last month, according to a University of South Florida research lab that uses satellites to track sargassum.
Florida's first 'clean' hydrogen production plant is being built in Polk County | WUSF
Hydrogen has been called the fuel of the future. But making its production sustainable has been a challenge. That's where "clean" hydrogen technology comes in.
Hani Banoub is vice president of Ocean Green Hydrogen of Tampa, one of the companies building the facility. He says they'll use state-of-the-art scrubbers to take carbon out of natural gas that's heated to extreme temperatures to produce hydrogen.
"For every pound of hydrogen that's produced by this technology, you're producing 10 pounds of carbon. So we're taking that old conventional technology and making it eco-friendly, by capturing the carbon," Banoub said. "The beauty of this — what I find very interesting — is that we're not killing the fossil fuel industry. We're utilizing natural gas and making it an eco-friendly fuel."
Canadian wildfires impacting skies across Florida | Fox 35 Orlando
ORLANDO, Fla. – You may wonder where the typically iridescent blue skies have gone and why they seem hazy. Giant wildfires spanning thousands of acres in eastern Canada are pushing out huge smoke plumes which are tracking south into the northeastern United States.
A big low-pressure center off of New England is helping to efficiently push that smoke southward all the way to Central Florida. The smoke may impact our air quality index (AQI) to a measurable degree but is unlikely to be thick enough to detect with your nose or feel in your lungs.
Smoke can cause health problems close to its source as the tiny particles can venture deep into the lungs exacerbating existing pulmonary conditions like asthma and COPD, but overall we're too far away to catch the brunt of its most severe impacts. That said, the wind direction changes mid-week, pushing all that Canadian smoke back north, and clearing our skies.
If you have any news items of note that you think we should include in our next roundup, please email The Invading Sea Editor Nathan Crabbe at ncrabbe@fau.edu. Sign up for The Invading Sea newsletter by visiting here.