By J.P. Brooker, Ocean Conservancy
The Sunshine State really should be called the Saltwater State.
No matter where you go, you are never more than 60 miles from the beach. From Orlando, it's a one-hour drive to some of the best beaches on the planet on the Space Coast. Traffic permitting, it's a two-hour drive to the unrivaled Gulf beaches along St. Pete Beach and Clearwater.
But Orlando and Central Florida are even more intrinsically connected to the ocean than by geography. What happens on the oceans affects Central Florida — and the choices Central Floridians make have a significant impact on the oceans.
For example, Florida's weather is deeply driven by oceanic forces. As ocean temperatures increase because of a changing, warming climate, tropical weather is becoming more frequent and severe. The impacts can range far beyond the coasts. Hurricane Ian didn't stop when it came ashore in Southwest Florida. It continued wreaking havoc, dumping 14 inches of rain on Orlando and causing historic inland flooding.
As temperatures rise, we can expect storms like Ian to become more regular, more acute and more expensive. Floridians are contributing to the warming ocean by pumping carbon into the atmosphere, and we are feeling the impacts of a changing climate statewide, including throughout Central Florida.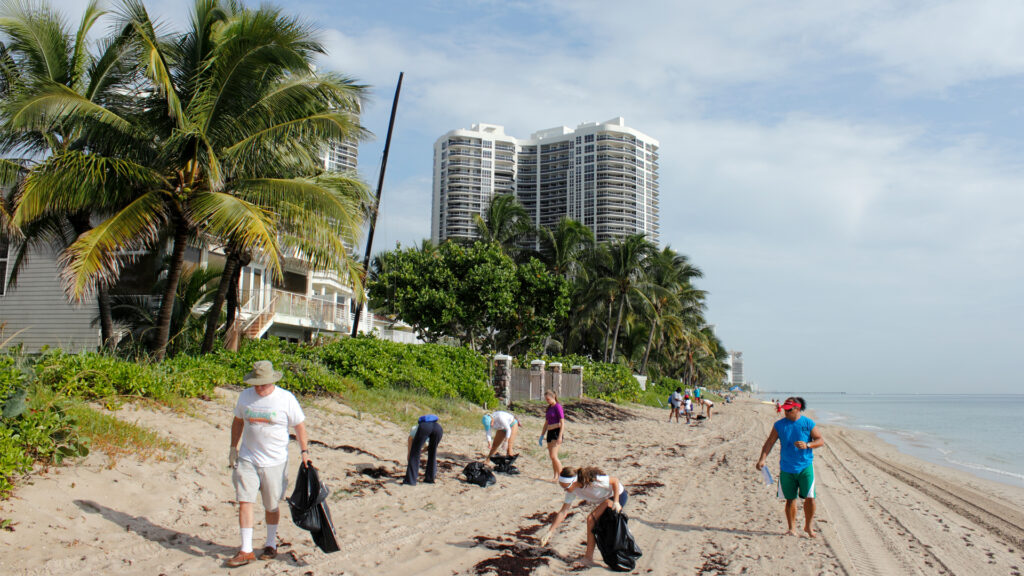 Our choices on plastics in Central Florida also impact the oceans. Single-use plastic items such as straws, utensils, bottles and even cigarette butts can enter the environment in Central Florida. They can ultimately make their way to the coasts and oceans, where they can impact wildlife and jeopardize human health.
Plastics have been found from the deepest ocean trench to the most remote Arctic ice. It's even in our bodies — scientists have found microplastics in human blood, lungs and placentas. We are responsible for that plastic, because we are the ones who introduced it into the environment. And while we are still trying to understand that impact of plastics on human health, we know plastics in the environment have disastrous impacts on wildlife.
Plastics in beach sand can alter the sex distribution of sea turtle nests, jeopardizing the long-term reproductive ability of key endangered turtle species. A 45-foot sperm whale in the Florida Keys died due to plastic consumption last year. At least 32% of manatees necropsied between 2010 and 2019 were found to have plastic in their digestive tracts. The list goes on and on.
In partnership with the city of Orlando, Ocean Conservancy is conducting a circularity assessment protocol analysis alongside the University of Georgia. This study will provide granular detail about where plastic debris emanates from and how it makes its way into the Central Florida environment, including the lakes and rivers that form the headwaters of the Everglades and flow downstream to the ocean. A better understanding of the lifecycle of plastics in Orlando will enable policymakers to narrowly tailor regulations that will effectively keep that plastic out of the environment before it can end up in our local waterways and ultimately our oceans.
World Oceans Day is June 8, and we encourage Central Floridians to remember the indelible connection to the oceans that makes Florida so magical. Be a Floridian, care about the oceans and skip single-use plastic items to protect our health, the health of our wildlife and the health of our environment.
Jon Paul ''J.P.'' Brooker is director of Florida conservation for the Ocean Conservancy. He is based in St. Petersburg.
This opinion piece was originally published by the Orlando Sentinel, which is a media partner of The Invading Sea.
If you are interested in submitting an opinion piece to The Invading Sea, email Editor Nathan Crabbe at ncrabbe@fau.edu. Sign up for The Invading Sea newsletter by visiting here.