Climate change and the damage from major storms are causing us to fortify our shorelines beyond building seawalls.
A new report by scientists from the University of California, Santa Cruz, The Nature Conservancy and Risk Management Solutions, (a company that creates storm models used by the insurance industry) emphasizes using natural solutions.
The study, Value of Florida's Mangroves, found that mangroves act as a friction barrier due to their complex structure. Known as living shorelines, mangroves can reduce damage and erosion, improve water quality and create a habitat for plants and marine species.
Laura Geselbracht, Senior Marine Scientist at The Nature Conservatory based in West Palm Beach, understands the importance of fortifying our coasts. Her work involves communities' vulnerability to sea-level rise while protecting coastal ecosystems.
She said the study determined that mangroves significantly reduced the damage to Florida from Hurricane Irma. The study found that mangroves reduced flood damage by $1.5 billion and protected more than half a million people. Counties that had some mangrove protection had 25% less damage, she said.
"Best of all," she said, the mangroves are native to Florida and adapt to the state's climate.  "In addition to providing nutrients for the ecosystem, mangroves can extend the life of seawalls.
We need to ensure that mangrove life proliferates by not removing them."
"Their ability to debilitate hurricane effects is due to dense growth, complex roots, trunks and leaves," she said. "They can grow 20 feet or more in height. All of this means the water will not penetrate as far or as deep."
"With sea-level rise happening, mangroves will absorb some of the rise with fresh waterflows. Protecting the shoreline from erosion and maintaining hydrology is another huge benefit. Mangroves are also able to keep up with sea-level rise as long as their tidal and freshwater flow remain intact."
To protect communities from the rising seas, she urges we keep our natural ecosystem intact. As well as being effective, using mangroves to bolster coastal resilience is also inexpensive compared to building seawalls. "They are our best friends," she said.
Another recent study on mangroves, "Forces of Nature", was just released. It was conducted by the University of California, Santa Cruz, the University of Cantabria in Spain and The Nature Conservancy.
Drs. Michael W. Beck and Siddarth Narayan from the Institute of Marine Sciences at U.C. Santa Cruz presented an economic valuation of Coastal Protection Services Provided by Mangroves in Jamaica.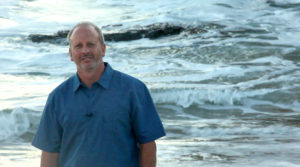 They examined current status and risks of mangrove habitats in Jamaica and identified where their conservation and restoration could be cost effective for flood risk reduction.
This work with the World Bank and the Jamaican government supports the country's aims to:
secure a healthy, natural environment
reduce risk
adapt to climate change.
Beck and Narayan have worked with the insurance industry, the U.S. Army Corp of Engineers, the World Bank and Florida DEP to support efforts to measure and build resilience with natural and nature-based solutions. Their work extends globally to more than 100 countries from the Philippines to Mexico and all over the U.S. They have shown that marshes can reduce 15% of annual flood risks, mangroves 25% and coral reefs up to 50% of flood risks.
Beck referred to a common perception that gray infrastructure like seawalls and bulkheads are more effective than natural structures at controlling flooding. But he notes that is not always true.
In fact, nature-based solutions can be inexpensive while seawalls can cause shoreline erosion downstream. Mangroves, he said, are a "weedy species" and can actually self-recover and proliferate. Narayan said there are growing successes with "hybrid approaches, which combine green and gray solutions".
Working to reconstruct past storm history, Beck said these models are developed to assess the amount of damage with and without mangroves. And they can be used to help support the development of innovative solutions such as resilience insurance to help pay for the restoration that is desperately needed.
The time for waiting and watching has become expensive and dangerous.
Benita Goldstein is a writer in Delray Beach.
"The Invading Sea" is part of the Florida Climate Reporting Network, a collaborative of news organizations across the state focusing on the threats posed by the warming climate.