Florida's climate-denying politicians have discovered a magic word that allows them to dodge awkward questions about a sultry new reality. They say "resiliency."
They still won't talk about the need to curtail the greenhouse gases that got us into this fix. But, backed into a very warm corner, they've now added "adapt" and "mitigate" to their lexicon.
Last week, when Sen. Marco Rubio announced that he was joining the Senate Climate Solutions Caucus, he stated that Floridians were already coping with changes "and will have to adapt to and mitigate against their impact for decades to come."
We're talking resiliency. Because it sounds downright daft for anyone outside the White House to deny that something profound is afoot. Not when the National Oceanic and Atmospheric Administration reports that last July was the hottest month ever. And that June and September ranked second and third in that ominous ranking. And that the last five years and that the last decade, respectively, were the warmest ever in those categories.
While 2019 (with apologies to Jane Austin) kept us in a "continual state of inelegance," it was only the second warmest year ever, cooler than record-setting 2016 by .04 Celsius.
  "I am not a scientist," Sen. Rick Scott would say back when he was a governor, rather than admit the obvious (and offend coal and oil interests).
Rubio had a remarkably similar variation: "I'm not a scientist. I'm not qualified to make that decision."
Such prevarications might have worked in 2014, but sounded like idiotic twaddle by 2019, when their constituents were standing knee-deep in sunny day floods in Fort Lauderdale, Miami and Miami Beach. And coastal residents were fleeing superstorms fueled by overheated ocean waters.
They needed a new strategy. An admission that, come to think of it, maybe there might be a climate crisis after all, but without admitting that it's related to the 38 gigatons of carbon dioxide mankind dumps into the atmosphere each year.
No way, no how. The term "anthropogenic global warming" remains heresy. Instead, we'll talk resiliency.
So last June, Rubio and Scott fired off a letter to the Army Corps of Engineers demanding a reassessment of the "cost-effectiveness and resilience" of Central and South Florida's flood control systems, given the looming calamities of sea-level rise and ever more powerful hurricanes.
In August, Rubio and Scott introduced the "Restoring Resilient Reefs Act."
The same month, the Florida Department of Environmental Protection, an outfit that during the Scott administration would not countenance the terms "climate change" or "global warming," organized a Florida Resiliency Workshop.
In October, Rubio met with Florida mayors to discuss "climate resilience gaps," exposed by sea-level rise. Scott, sensing the (rising) tide has turned since his climate denial days, now claims his administration spent $300 million on "flood mitigation, coastal resiliency, beach re-nourishment and coral reef protection." (Which all spreads pretty thin over an eight-year term.)
Gov. Ron DeSantis (who, according to the League of Conservation Voters, cast votes in favor of environmental protection bills only 2 percent of the time during his six years in Congress) was elected governor of a state beset with rising seas, growing storm and flood threats, an ever more nervous insurance industry, not to mention outbreaks of green and red toxic algae, dying coral reefs, mosquito-borne diseases and other maladies exacerbated by warming temperatures.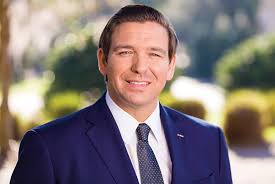 None of which convinced the governor to suggest that Florida reduce its carbon output or exploit the Sunshine State's bountiful potential for generating solar energy. Nothing in his agenda about green buildings. Nary a whisper about a carbon tax.
Instead, DeSantis created an Office of Resilience and Coastal Protection to "help prepare Florida's coastal communities and habitats for impacts from sea-level rise."
DeSantis appointed Julia Nesheiwat chief resilience officer to administer all this resiliency stuff. She declared that Florida was "ground zero when it comes to resiliency." (Nesheiwat abandonedground zero last week to join the Trump Administration.)
Last summer, Rubio wrote an op-ed in USA Today admitting that the "trend lines" indicated sea-level rise and storm surge were potential problems in Florida. But he warned against a carbon tax and other solutions proffered by "global elites."
Instead, he wrote about "making adjustments in the coming decades." As if projects like restoring the Everglades or repairing coral reefs could inoculate Florida from an existential threat.
Climate scientists Michael Mann and Andrea Dutton, in a joint Newsweek op-ed, called Rubio's revamped approach to the crisis as a "more subversive 'softer' form of climate denialism."
In Florida, I guess that's progress.
Fred Grimm, a longtime resident of Fort Lauderdale, has worked as a journalist in South Florida since 1976. Reach him by email at leogrimm@gmail.com or on Twitter: @grimm_fred
"The Invading Sea" is the opinion arm of the Florida Climate Reporting Network, a collaborative of news organizations across the state focusing on the threats posed by the warming climate.