By Jose Javier Rodriguez, member of the Florida Senate
For only the second time in history, scientists were recently tracking five cyclones in the Atlantic. Two hurricanes have now ravaged the Gulf Coast in less than a month; scientists agree that hurricanes are growing more powerful and dangerous because of climate change.
More than five million acres have burned across California, Oregon and Washington as we see the death toll and damage from these climate fires continue to rise. In South Florida, Miami is the most vulnerable coastal city worldwide, with rising sea levels, storm surges and toxic algae.
Climate change is real, it's here, and it's affecting our daily lives right now.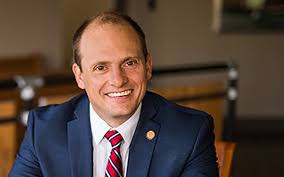 Even as the climate crisis toll becomes more apparent every day, Donald Trump, the most anti-science and anti-climate president in our history, continues to deny the existence of climate change and even basic science. It costs jobs and even lives.
Two weeks ago, Trump came down to Florida to announce a ban on offshore drilling and proclaimed himself a "champion of the environment." This cannot be further from the truth.
President Trump has rolled back 100 vital environmental protections, and he will be the first president in history to end his term with fewer public lands protected than when he took office.
Florida voters cannot trust Trump when it comes to drilling. Last year, he proposed opening nearly all U.S. waters to drilling. Earlier this year, leaks from the administration indicated that they still wished to move forward with drilling off Florida's coasts, but were shelving the plan until after the election. This is nothing more than an election-year bait-and-switch.
True to form, Trump quickly went from "champion of the environment" back to climate denier as soon as he left Florida. During a visit to California to get briefed on the catastrophic wildfires ravaging the West Coast, Trump flat out denied climate change, its role in the wildfires, and even touted global "cooling." This all comes after a deafening silence from the administration for over three weeks as the fires continued to spread.
We know the effects that humans have on the environment, and it is communities like mine that are left to bear the brunt of it.
Trump has filled his government with former oil, gas and coal lobbyists and put them in charge of dismantling protections for our clean air, clean water and the climate.
Meanwhile, people of color are more likely to live near toxic facilities producing toxins — shortening our lifespan. All of this is exacerbated by a global pandemic and a president who continues to lie to the American people about COVID and climate change.
Since the start of his presidency, President Trump has lied roughly 500 times about environmental issues. Trump has chosen to ignore the gravity of the climate crisis, deflect blame to protect fossil fuel interests, and when all else fails, he denies the existence of climate change and attacks science.
President Trump can't have it both ways. He can't pretend to be a champion for the environment and deny the effects or even the existence of climate change. This sort of negligence on one of the greatest threats facing the country and our planet must be called out and corrected.
State Sen. Jose Javier Rodriguez, D-Miami, represents Senate District 37 in the Florida Senate.
"The Invading Sea" is the opinion arm of the Florida Climate Reporting Network, a collaborative of news organizations across the state focusing on the threats posed by the warming climate.