An interview with Oscar Rodriguez, CEO at NovaCHARGE
As part of its series "The Business of Climate Change," which highlights the climate views of business men and women throughout the state, The Invading Sea spoke with Oscar Rodriguez, executive chairman and CEO at NovaCHARGE.
Here are some highlights from the interview.
First, can you tell us a little bit about NovaCHARGE and what it does?
NovaCHARGE is a manufacturer of hardware for electric-vehicle charging and also software where we make a cloud system that allows for administration and driver support for EV charging. So like a lot of different types of systems that are out there, if you're a driver, you can download one of our apps and charge your car, and hopefully save a lot of money in the process.
NovaCHARGE is headquartered in Orlando. What climate-related changes have you witnessed working in this area of Florida?
We actually moved the company to Orlando very early on, mostly because of the leadership that the city of Orlando and the mayor had shown in the early days, and we're talking about back in 2010, 2012, where the city was one of the first ones in the Southeast to deploy large numbers of electric-vehicle charging.
We worked with the city to bring Electrify America here. And in doing that, we were able to secure some funds and work collaboratively with the city and also with Orlando Utilities Commission … and that gave us a really great view of the leadership and the orientation toward doing something about climate change that the city of Orlando has had.
What are the climate impacts of electric vehicles and EV charging?
I don't know if I'm an expert to be able to detail every little bit of that but I can tell you that the movement away from fossil fuels really has a significant impact.
It also has an impact not just on the planet … but also in the pocketbooks of folks who are driving electric vehicles. I can tell you that I, myself, went from driving a gasoline-based sedan that cost me about $250 a month in gasoline based on the mileage that I drive to an all-electric vehicle that costs me about $30 a month in electricity. That's a pretty big savings for anybody.
How has EV charging changed in the past five years? And what do you predict for the next five years?
EV charging really has changed quite a bit in that we've gone from charging low-speed cars, where the initial cars were based on the standard connector, into a DC fast-charger world where a lot more DC fast-charging is going on.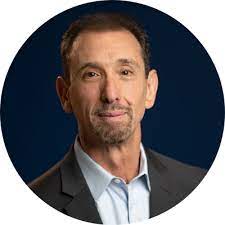 We have now a wide variety of brands that are bringing EVs to the table. That then has catapulted EV charging from being simple trickle-charging overnight or maybe at home in a residential environment into real public charging, where fast charging can really happen.
We as a company do a lot of public charging. We're installing some rest stops at the Florida Turnpike and that's very fast charging, lots of cars charging at the same time in the same way that you would expect people to be fueling on their way to north and south, etc., throughout Florida.
Over the course of the next five years, one of the things I do expect is that increasingly, there's going to be vehicle-to-grid movements of electricity, not just from the grid to the vehicle. (That means) that the car would be able to be used as a mass storage device of energy, and you might be able to actually sell energy back into the grid, very similar to having a power wall or one of these interesting items right in your home.
The same thing for businesses. Businesses would be able to then sell electricity back, buy it at a cheaper rate and be able to sell it back, and all of the cars in the parking lot could participate as well. So EV charging will become bi-directional over the next five years.
Are there any common misconceptions with regard to electric vehicles and EV charging?
I think one of the common misconceptions is that folks are not quite sure when they can charge, how they can charge. There's a lot of issues around range anxiety, and what we're doing effectively with the infrastructure bills that are coming, is we're getting the ability to lay infrastructure in a lot of different places.
You have to kind of consider EV charging where it is today, similar to gas pumps in 1910. In 1910, if you wanted to go across the country, you'd better carry your own can of gas and be able to find places to be able to replenish. EV charging is moving away from that ability to only find a few places, to find many more places, and the business models that are around the software for EV charging are really driving that.
So today you can have an EV charger as a vending machine.
That will then promote the many locations that are going to be necessary in order to (provide EV charging at) the same level that you have fueling today.
How can local and state governments help make electric vehicles and EV charging accessible to more people?
I'm going to once again use the city of Orlando as an example. They just passed what was called the EV Readiness Program. It is actually a code that requires buildings, specific building types, any new building type of that of nature to be pre-built (with EV charging ability).
The most difficult part of installing EV chargers is making sure that the infrastructure is in place because it's not just about the appliance itself; it's also making sure that the breaker panels and all of the infrastructure is able to support it, including the available power.
If you can make that power available at the time that the building is built, and make sure that the panels have enough space, and there's conduit already run, then it makes it a lot easier for anyone to later come in once they own the building, or maybe part of a residential building for a resident to be able to come in and say, "I'd like an EV charger."
It's less costly and much more straightforward in order to put an EV charger in place.
Kevin Mims, a Florida-based freelance journalist, is the producer of "The Business of Climate Change." He conducted this interview with Mr. Rodriguez.
"The Invading Sea" is the opinion arm of the Florida Climate Reporting Network, a collaborative of news organizations across the state.