Welcome to The Invading Sea's news roundup, a past feature on the website that we are reviving. We plan on regularly presenting this collection of news items related to climate change and other environmental issues in Florida. If you have any news items of note that you think we should include in our next roundup, please email Editor Nathan Crabbe at ncrabbe@fau.edu.
Think your home is safe from hurricane damage? Not so fast. New report predicts growing risks. | USA Today
Increasingly destructive hurricanes will put more U.S. homes at risk for wind damage, according to a new report that allows Americans to look up projections for their specific address. 
Published Monday by the First Street Foundation, the analysis uses a new wind model, topography and property information to look at the likelihood and financial consequences of hurricanes in the United States now and 30 years into the future.  
First Street collaborated with Kerry Emanuel, a meteorologist and climate scientist at the Massachusetts Institute of Technology, using a model to predict future hurricane tracks and intensities based on previous storms. 
Pythons are pushing north in Florida. UF wants more eyes on the ground to stop them | Florida Today
As a "python-pocalypse" slithers our way, scientists hope to stop these foreign invaders in their tracks, as the snakes make a smorgasbord of Florida's native species.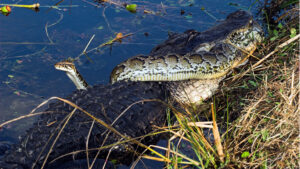 Pythons swallow any critters in their path that look like lunch. They also spread deadly parasitic diseases to native snakes. But biologists aren't sure about the snake's long-term ecological toll or the best ways to control them, so the University of Florida will use some subterfuge and some radio telemetry to spy on this serpent when it's looking for love in all the wrong places, especially in the Everglades. 
"They spend a lot of time hidden," said Melissa Miller, a research assistant scientist at the University of Florida. "I think it's important to recognize the impact they're having in the Everglades system." 
Expect 'a summer of slime' on Lake Okeechobee; Caloosahatchee River | WGCU
The surface of Lake Okeechobee is expected to turn the wrong color this summer as all the elements for a huge outbreak of blue-green algae are in place.
Warm water, ample sunlight, and calm weather is what blue-green algae needs to flourish, and those conditions are present in South Florida every summer. But the key ingredient for any harmful algae bloom in the lake — nutrients — are usually stuck down in the muck.
But what is "usual" has changed in South Florida since Hurricane Ian. Stronger tropical cyclones caused by warming ocean waters due to rising temperatures worldwide are tilting environmental conditions in favor of worsening natural disasters, and that includes harmful algae blooms such as blue-green algae and red tide.