A roundup of news items related to climate change and other environmental issues in Florida: 
Florida's starving manatees reflect troubles in coastal ecosystems around the globe | USA Today
Ask the veterinarians and biologists collecting dead manatees along Florida's Atlantic coast this winter, and they'll tell you starvation is a slow and excruciating way to die.
Organs stop functioning. Cells break down. Muscles waste away. The starving animals are "dissolving on the inside," said Pat Rose, executive director of the nonprofit Save the Manatee Club.
A series of algae blooms decimated vast seagrass beds where the sea cows once grazed in the Indian River Lagoon on the Central Florida coast. Now they are dying in record numbers, more susceptible to infection and colder, winter waters.
Got hurricane insurance from Citizens? Here's a new reason your bill may rise in Florida | Miami Herald
A little-noticed line in the Florida Legislature's latest attempt to fix the state's fractured home insurance market promises to have big impacts on more than a million Floridians. It will force them to also buy flood insurance — even if their homes aren't in designated flood zones.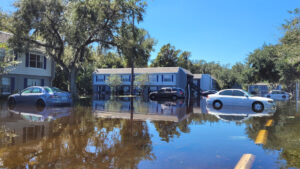 The provision, included in a sweeping insurance bill passed late last year, will make flood insurance mandatory for any homeowners with hurricane wind policies from Citizens Insurance, the state-run insurer of last resort. At minimum, that's likely to add hundreds of dollars a year to the insurance bill.
As the mandate is phased in over the next few years, it could affect 1.2 million current Citizens policy holders, who will be required to get flood insurance no matter where they live or see their coverage canceled.
In Florida, an invasive snail is helping save an endangered bird | NPR
MOORE HAVEN, Fla. — In Florida's Everglades, few species are more closely tied to the habitat's health than an endangered bird, the snail kite. The Everglade snail kite is a raptor, similar to a hawk, that eats just one thing: snails.
Over the last century, as much of the Everglades was drained, the bird's population declined precipitously. But the kite has bounced back recently thanks to an exotic snail. It's a rare case of an invasive species having a positive impact.
Robert Fletcher, a University of Florida professor who directs a snail kite monitoring program, says the invasive species was first spotted in 2004. Within a few years, it had expanded through much of the Everglades. "And it was around that time," he says, "that we started to see snail kite number increase."
If you have any news items of note that you think we should include in our next roundup, please email The Invading Sea Editor Nathan Crabbe at ncrabbe@fau.edu.