By Rachel Rhode 
As we move into a new year, many across Southwest Florida still suffer from the lingering impacts of last year's natural disaster — Hurricane Ian. The Category 4 storm made its devastating landfall in September and has left Floridians like my family struggling to repair significant damage left by intense inland flooding and storm surge.  
Without adequate resilience planning, frequent and more severe hurricanes will continue to follow similar patterns and wreak havoc across Florida. But state leaders have the power to change this. Florida's 2023 legislative session creates an excellent opportunity for state leaders to prioritize proactive, innovative natural solutions that could help sustain residents, ecosystems and the state's economic way of life.
Many Southwest Floridians lost everything in the storm and are still experiencing great hardships.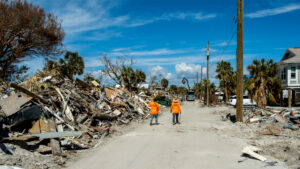 Even though I study the impacts of climate change, I was still shocked by the damage I saw and experienced. As someone raised in the Midwest, I didn't grow up with much knowledge or experience surrounding hurricanes. This is the case for many Southwest Floridians and will continue to be the situation as more people move here each day.   
As climate change exacerbates the severity of hurricanes, more families will experience these frequent and worsened impacts, but there is a pathway to making Florida more resilient. It is time to urge state legislators to prioritize investing in sustainable, long-term resilient solutions like natural infrastructure. Focusing on short-sighted band-aid solutions does not meet the impacts of today and tomorrow.
In my work as a scientist at Environmental Defense Fund, I've seen promising results from natural infrastructure solutions like coral reefs, mangroves and wetlands. New research showcases how mangroves reduced nearly $200 million dollars in damage to communities located behind them during Hurricane Ian. Similar results were found in Southwest Florida with Hurricane Irma, showing once again that working with nature, rather than against it, pays off and that natural infrastructure applications, especially when integrated with more traditional features like seawalls, can offer the best protections for Florida communities.    
Florida's Legislature can protect vulnerable Florida families by prioritizing investments in new and existing science and monitoring along our coasts, robust funding to the Resilient Florida grants program and support of Flood Hub research innovation. Access to data will inform models and provide cities and towns with more accurate flooding and storm surge predictions to inform emergency evacuation and infrastructure decisions.  
With repetitive damaging seasons, Florida residents are understanding that extreme storms like Ian are the new normal — and we need to start planning for them now.   
Before the next hurricane season, Florida lawmakers should fully fund resilience programs, prioritize science and ensure nature-based solutions are leveraged. Future generations deserve the chance to continue to safely enjoy the Florida lifestyle and natural ecosystems that make Florida, Florida.   
Rachel Rhode is a Southwest Florida resident and studies coastal resilience with the Environmental Defense Fund. This opinion piece was originally published by The News-Press, which is a media partner of The Invading Sea.