By the Orlando Sentinel Editorial Board
If you ask Floridians what we are doing to help keep this state green, many of us will point with pride to our own lush, verdant lawns, perhaps with a bit of humblebragging about how much we spend on irrigation, fertilizer and chemicals to keep weeds at bay.
Forgive us (at least, most of us) for we know not what we do: Too many Floridians just don't understand the realities of Florida-friendly landscaping. Unless they are managed with great care, those broad, manicured expanses of emerald green are a threat to this state's natural beauty, and its supply of clean, fresh drinking water. And the damage goes much further than many homeowners realize.
That's because Florida's water supply is elaborately interconnected. Water filters down from sandy soil, or leaks from faulty septic systems, into a vast underground series of aquifers and resurfaces as springs that feed rivers and fill lakes. That's the best-case scenario, because that trickle-down effect actually purifies water; when conditions are perfect, wells readily produce water that is pure enough to drink.
But rainwater also falls on paved surfaces, where it can wash into nearby water bodies — carrying a burden of lawn chemicals and other toxins with it. The effect is magnified when irrigation systems crank up, increasing the amount of chemical-laden runoff into streets and eventually, into nearby water bodies. That's how pollution from Osceola County can reach as far as the Everglades — or how development miles away can endanger the fragile Econlockhatchee or Wekiva rivers.
Add to that the stress that over-pumping — for lawns, as well as indoors, in nearly 8 million (and growing) households across Florida — puts on the freshwater aquifer, and it becomes easier to understand how overzealous lawn love can rapidly endanger the hydrological health of Florida's landmark springs and rivers, sparking red tide blooms that are already creeping into waterways in South Florida and killing off seagrass beds in the Indian River Lagoon.
That may seem like a lot to take in — unless you're well-versed in these matters, and then it sounds like a vast oversimplification.
"Everything you do upstream matters downstream," says Mike Register, executive director of the St. Johns River Water Management District. And no matter where you are in Florida, you're "upstream" from someplace else.
Register's agency, which covers a 17-county region that takes in most of east Central Florida, is in charge of managing water consumption. Its website on responsible lawn management, WaterLessFlorida.com, is a great resource for those who want to learn the best ways to manage their own water usage. There are others — the University of Florida's agricultural extension program has an excellent guide to Florida-friendly plant selection at ffl.ifas.ufl.edu, and Orange County (which is one of several local governments that regulates fertilizer usage — including a total ban in the summer) offers a wealth of information at www.ocfl.net/Environment/FertilizeResponsibly.aspx.
Here are the basic things, however, that all Floridians need to know about maintaining their own little corner of paradise: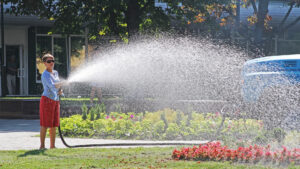 Watch water usage. Watering restrictions govern when you can irrigate lawns; learn your local rules (usually, addresses that end in even numbers may water on Thursday and/or Sunday before 10 a.m. or after 4 p.m., and odd addresses may water on Wednesday and/or Saturday before 10 a.m. or after 4 p.m., but check local regulations). If you don't need to irrigate on those days — for example, if it just rained — don't.
Back away from the fertilizer. This is particularly important in areas that offer "reclaimed" water for irrigation, Register says — that water, where available, usually still has enough nitrogen and phosphates to sustain a lawn without any additional boost. Those two chemicals are the ones that cause the most problems downstream (including the imbalances that are killing off seagrass beds in the lagoon, which led to the horrific mass starvation of Florida's beloved manatees over the past few years) so if you do buy fertilizer, look for blends that are mostly slow-release and use only the amount that your plants need, which is almost always less than most homeowners think is necessary.
Pick the right plants. Rethinking our lawns can include backing away from the thirsty varieties of St. Augustine and other grasses. You don't need the services of a professional landscaping company to recreate a healthy, handsome landscaping framework for your home (though that's often the easiest option). Each of the sources linked above offers options and DIY advice — and links to other knowledgeable sources. Those who live in areas with homeowner's associations should also know that, by law, HOAs can't force residents to install thirsty lawns if they prefer a more Florida-friendly landscape.
The bottom line: To a great extent, Florida's hydrological health is in the hands of its residents, and the fight to save its lakes, rivers and springs is fought in every lawn, every day. It isn't complicated, but it's critical — and we are all in this together.
This editorial was originally published by the Orlando Sentinel, which is a media partner of The Invading Sea. The Orlando Sentinel Editorial Board consists of Opinion Editor Krys Fluker, Editor-in-Chief Julie Anderson and Viewpoints Editor Jay Reddick. Contact them at insight@orlandosentinel.com