By Carlos Curbelo
No matter where you look, all signs point to the fact that the United States needs to repair and modernize its infrastructure to meet the challenges of tomorrow's economy.
Whether it's upgrading highways and bridges, building the pipelines it will take to deliver American energy to markets at home and abroad, or modernizing our grid for renewable energy projects that will help power our future, we must find a way to get critical projects moving on a faster timeline. Revitalization starts with significantly reforming current permitting processes and clearing the red tape that holds us back.
While in Congress, I devoted a lot of time and energy to bridging the gap between environmental stewardship and practical reforms that will make us all more prosperous. We can make sensible changes to the National Environmental Policy Act (NEPA) without sacrificing progress on climate change and environmental protection. In fact, we are seeing a growing contingent of Democrats beginning to accept that revising NEPA is critical to the energy transition, since permitting reform is the most effective way to expedite the completion of renewable-energy projects.
Congress is well aware of this issue. Last year, Sen. Joe Manchin, D-West Virginia, tried to bridge the partisan divide on this issue with a permitting reform plan that included important changes to NEPA. And while many Democrats remain concerned permitting reform will erode critical environmental protections, others see reform as necessary to meeting President Joe Biden's ambitious climate goals.
NEPA presents a sea of red tape that doesn't just stand in the way of highway projects and pipelines, it blocks renewable projects too. The law was created in the 1970s "to ensure federal agencies consider the environmental impacts of their actions and decisions." However, recent decades have seen its effectiveness decrease, and its regulations have become outdated and ineffective.
Today, NEPA reviews can take up to seven years to complete. For example, the Keystone XL pipeline saw numerous setbacks because of reviews and legal challenges that blocked key permits and contributed to its cancellation. The Mountain Valley Pipeline is now facing a similar experience. This 303 mile-project will span from West Virginia to southern Virginia, transporting natural gas from the Marcellus and Utica shale formations to mid-Atlantic and southeast states and ultimately providing 2 million dekatherms of energy to markets that need it.
Russia's unprovoked war against Ukraine has pushed energy issues into the spotlight, reminding Congress and the public that the health of our energy infrastructure is a matter of national security. A healthy and prosperous energy future includes renewable projects critical to reducing air pollution.
Today, NEPA is impeding the completion of these projects. In Nevada, a geothermal power plant is under attack by conservation groups and others who are using NEPA as a stalling mechanism. Recently, Duke Energy announced the beginning of construction on two new solar projects in Florida. It is yet to be seen whether activist groups will also use NEPA to slow or stop those projects. The more we delay the clean energy transition, the more we pollute the atmosphere and the more we expose communities all over the country to the dangerous consequences of sea-level rise, ocean acidification and deadly extreme weather events.
In the end, permitting reform will benefit everyone. That's why Manchin pushed to include permitting reform measures in the Inflation Reduction Act and why Florida Sen. Marco Rubio introduced a resolution with Alaska Sen. Dan Sullivan to make clear to the Biden administration that NEPA, in its current form, will delay the progress of infrastructure vital to both the environment and the economy.
To reform NEPA, we should set reasonable limits on timelines, scope, and generally, on the ability of opponents to block needed infrastructure projects. We should enforce limits on judicial review and set a statute of limitations for court challenges. With no limits, groups can use reviews to hold up projects for years. Doing so will increase American infrastructure investment and reduce costs delivering cleaner and more affordable energy for every American household.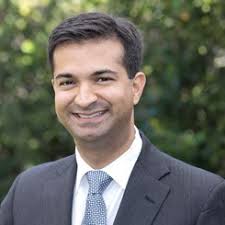 Fortunately, reform is seeing some momentum. Baron Hill, former Democrat Indiana representative, and House Energy and Commerce Committee member, stated in a recent article for POWER Magazine, "Climate solutions and boosting America's infrastructure are not Republican or Democratic issues, but ones that should unite Americans." California Representative Scott Peters echoed this thought: "People who are serious [about reform] know that it has to be bipartisan."
We cannot let this critical issue become a casualty of the relentless partisan war. Reforming NEPA and building infrastructure for tomorrow's America is too important to ignore or delay. It's time to act.
Carlos Curbelo represented Florida's Congressional District 26 from 2015-2019. This opinion piece was originally published by the Miami Herald, which is a media partner of The Invading Sea.