This story was originally published by Grist. Sign up for Grist's weekly newsletter here.
By Akielly Hu, Grist
A Gallup survey released in late April found that 55% of U.S. adults support the use of nuclear power. That's up four percentage points from last year and reflects the highest level of public support for nuclear energy use in electricity since 2012.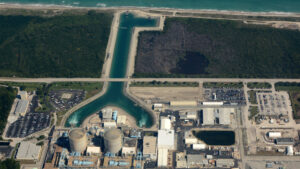 The survey found that Republicans are more likely to favor nuclear energy than Democrats, consistent with previous Gallup polls. Experts say that partisan divide is particularly visible at the state level, with more pro-nuclear policies adopted in Republican-controlled states than left-leaning ones. But Democratic support for nuclear energy is on the rise, and advances in nuclear technologies and new federal climate laws could be behind the broader shift in public opinion toward nuclear energy.
Nuclear energy has historically been a source of immense controversy. A series of high-profile nuclear accidents and disasters, from Three Mile Island in 1979 to Chernobyl in 1986 to Fukushima in 2011, have raised safety concerns — even though the death toll from fossil fuel power generation far outstrips that of nuclear power generation. Several government nuclear programs have also left behind toxic waste that place disproportionate burdens on Indigenous communities.
But nuclear power doesn't produce carbon emissions, and it's more consistent and reliable than wind and solar energy, which vary depending on the weather. For these reasons, the Biden administration has identified nuclear energy as a key climate solution to achieve grid stability in a net-zero future. The administration is pushing for the deployment of a new generation of reactors called "advanced nuclear": a catch-all term for new nuclear reactor models that improve on the safety and efficiency of traditional reactor designs.
In a recent report, the Department of Energy found that regardless of how many renewables are deployed, the U.S. will need an additional 200 gigawatts of advanced nuclear power — enough to power about 160 million homes — to reach President Joe Biden's goal of hitting net-zero emissions by 2050.
Gallup has tracked several swings in public opinion since first asking about nuclear in 1994. From 2004 to 2015, a majority of Americans favored nuclear power use, with a high of 62% in support in 2010. But in 2016, the survey found a majority opposition to nuclear power for the first time. Gallup speculated that lower gasoline prices that year may have "lessened Americans' perceptions that energy sources such as nuclear power are needed." In recent years, views on nuclear power had been evenly divided until the latest poll, conducted between March 1 and 23.
The new poll found that 62% of Republicans support the use of nuclear power, compared to 46% of Democrats. The support from Republicans is likely driven by "a focus on energy independence, supporting innovation, supporting American leadership globally, and supporting American competition with folks like China and Russia specifically in terms of the nuclear space," said Ryan Norman, senior policy advisor at the center-left think tank Third Way.
Matt Bowen, a senior research scholar on nuclear energy at Columbia University, points out that those political differences in public opinion have played out at the state level. As he puts it, conservative states tend to have "a much more supportive environment" for nuclear energy policies.
In Tennessee, for example, Republican Gov. Bill Lee announced a plan in February to allocate $50 million in the state budget to support nuclear power-related businesses. In 2021, Wyoming Gov. Mark Gordon welcomed the arrival of a planned advanced nuclear reactor site in his state, set to be one of the first advanced reactors to operate in the country. And last February, West Virginia repealed the state's ban on construction of nuclear power plants.
Many of the states passing laws to enable nuclear infrastructure have experienced major job losses as a result of a declining coal sector, Norman observes.
Meanwhile, states that have placed restrictions on the construction of new nuclear power facilities are largely Democratically controlled. Those 12 states include Democratic strongholds like California, Connecticut and Massachusetts.
On a national level, Norman from Third Way emphasized that the recent Gallup poll reflects growing support from people of all political backgrounds.
Democratic support for nuclear power jumped up 7% this year, up from 39% in 2022. Recent studies on decarbonization pathways and the Biden administration's climate goals have spotlighted nuclear power as a potential clean energy solution — a possible reason for the uptick.
In addition to the Department of Energy's modeling, the International Energy Agency's Net Zero by 2050 scenario found that in order to fully decarbonize the global economy, worldwide nuclear power capacity would need to double between 2022 and 2050.
In Congress, nuclear power has enjoyed some rare moments of bipartisan support. Lawmakers from both sides of the aisle have joined forces to pass a few successful pro-nuclear laws. The 2021 bipartisan infrastructure law injected $6 billion toward maintaining existing nuclear power plants. And while the 2022 Inflation Reduction Act was an entirely Democratic effort, it included a technology-neutral tax credit for low-carbon energy that can be used for nuclear power plants. The climate spending law also allocates millions in investments for advanced nuclear research and demonstration.
Bowen credits Democratic lawmakers' newfound openness to nuclear power to the increasing urgency of addressing climate change. As he put it, nuclear could be one answer to a question policymakers are increasingly asking themselves: "How do you achieve these deep decarbonization scenarios, especially since we have less and less time?"
This article originally appeared in Grist at https://grist.org/energy/us-support-for-nuclear-power-soars-to-highest-level-in-a-decade/.
Grist is a nonprofit, independent media organization dedicated to telling stories of climate solutions and a just future. Learn more at Grist.org