A roundup of news items related to climate change and other environmental issues in Florida:
Miami-Dade takes landmark step toward protecting outdoor workers from rising heat | Miami Herald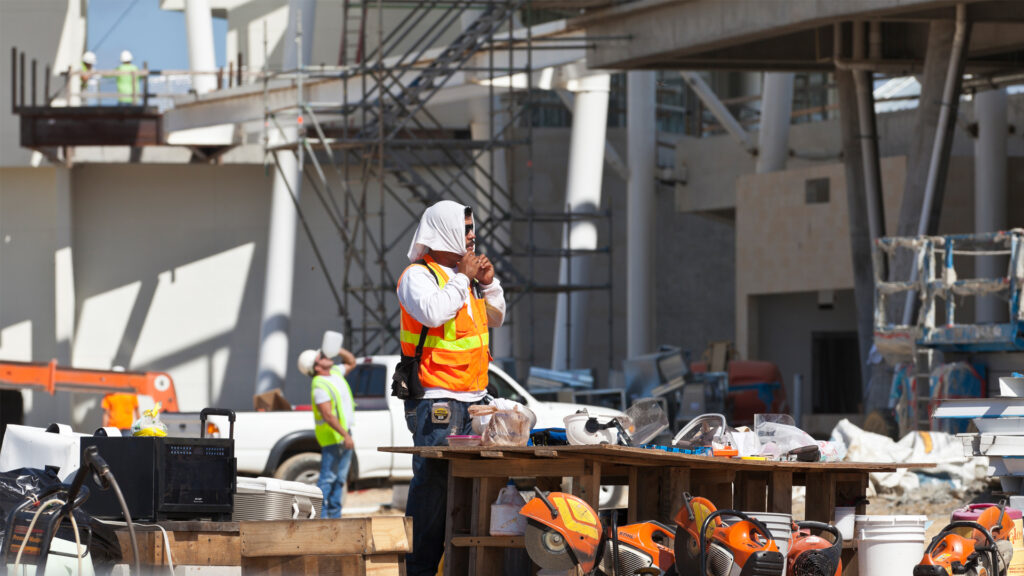 With record heat scorching South Florida, Miami-Dade County took a long-delayed but landmark first step toward protecting the scores of workers who who labor in the sweltering sun.
The Miami-Dade County Commission introduced a bill Tuesday that would create workplace heat protections for roughly 80,000 people in construction and agriculture trades in the county. At least two agricultural workers have died this year from heat-related issues in South Florida, one long before the latest dangerous heat wave still baking the state.
The heat standard for outdoor workers, sponsored by commissioners Kionne McGhee and Marleine Bastien, would require companies to give workers water and a 10-minute break in the shade every two hours on days when the heat index hits 90 degrees. Companies would also be required to train workers and supervisors on heat safety. Companies that repeatedly fail to do so could face fines up to $3,000 per violation per day.
Rising saltwater is threatening marine ecosystems | WJCT
Increased salinity in oceans and coastal areas — the result of climate change and poor land use — has potentially devastating effects on coastal and nearby ecosystems, a new study concludes.
Climate change and man-made intrusions can lead to extreme flooding and drought. As sea levels rise, they push saltwater into coastal and low-lying areas, damaging seagrass beds, harming the shrimping and fishing industries and changing recreational environments, according to the study from the University of North Florida.
"These habitats are subject to change," said Cliff Ross, one of the researchers on the study. "So as the salinity levels change, that's going to have an impact on the ecosystem and may cause certain habitats like seagrass beds or other type of ecological environments, it may cause them to shift into something else or perhaps even die off."
Health officials report a seventh case of malaria in Sarasota County | WUSF
Health officials have confirmed one new case of locally acquired malaria in north Sarasota County this past week, for a total of seven this year.
The new case was listed in the Florida Department of Health's weekly arbovirus report for July 9-15.
Malaria is not transmitted person-to-person but when a female anopheles mosquito becomes infected after biting an infected person. The locally acquired cases are unusual because a vast majority of malaria cases in the U.S are detected after someone has traveled to another country.
If you have any news items of note that you think we should include in our next roundup, please email The Invading Sea Editor Nathan Crabbe at ncrabbe@fau.edu. Sign up for The Invading Sea newsletter by visiting here.