An annual event featuring discussions of climate solutions in Florida is happening Oct. 2-8 — with The Invading Sea among those participating in the event. 
Florida Climate Week is a free virtual and in-person summit that brings together policymakers, business leaders and other individuals to address the urgency of the climate crisis and its impact on Florida. The event is sponsored by VoLo Foundation, a nonprofit organization founded in 2014 with the mission of supporting science-based climate solutions, enhancing education and improving health.
In a press release announcing the event, VoLo noted that the United States is ranked as the second-most-susceptible country in the world to climate-related changes, with Florida listed 10th, following nine regions in China.  
"With Florida being the 10th territory on the planet most affected by climate change, it was urgent that we have our week dedicated to the climate, as New York has it. I am a mother, and my vision is always set on the future," said Thais Lopez Vogel, co-founder and trustee of VoLo Foundation.
The Florida Climate Week program includes 35 virtual events and, for the first time, 10 in-person events. To register for free and access the full agenda, visit www.floridaclimateweek.org.
Nathan Crabbe, editor of The Invading Sea, is moderating one of the virtual events: an online panel discussion entitled "Talking with Conservatives About Climate Change" that can viewed starting Oct. 2 at 8 a.m. (Update: The video is now available for viewing and can be seen below)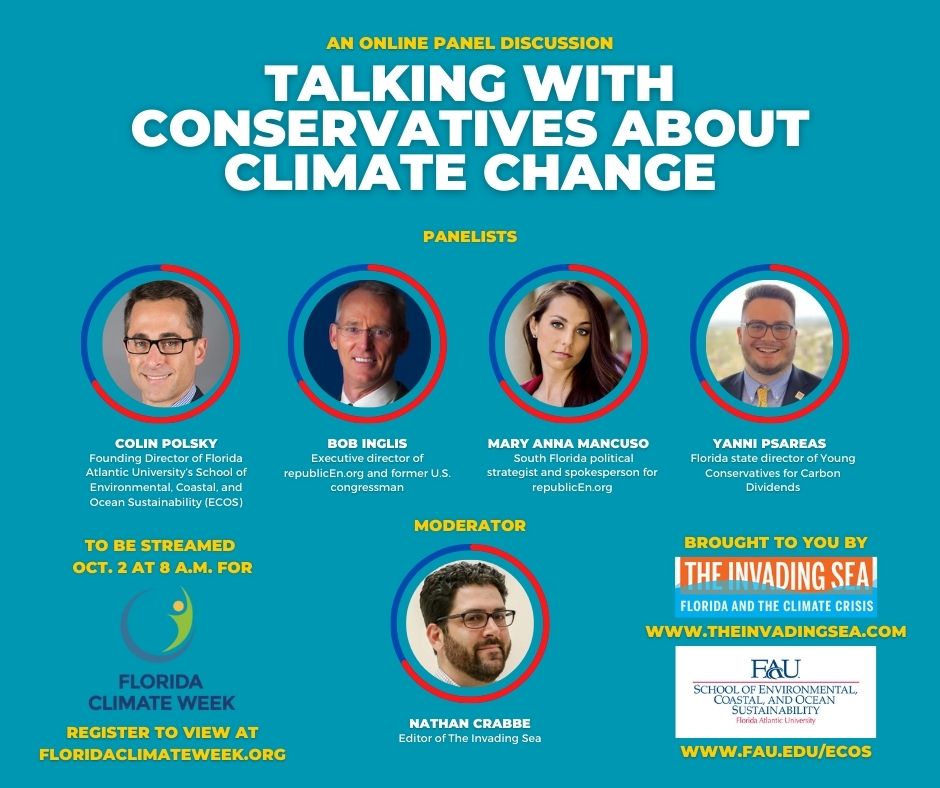 The panel includes three Republicans discussing ways to engage conservatives on climate issues: Bob Inglis, executive director of republicEn.org and former U.S. congressman; Mary Anna Mancuso, South Florida political strategist and spokesperson for republicEn.org; and Yanni Psareas, Florida state director of Young Conservatives for Carbon Dividends. Colin Polsky, founding director of Florida Atlantic University's School of Environmental, Coastal, and Ocean Sustainability (ECOS), will be discussing polling on these issues.
The topics covered in other Florida Climate Week events include the effects of high temperatures and increasing heat in the state, the impact of climate change on children's health, and agricultural innovation and the power of food to confront climate change. Speakers and panelists include scientists, politicians, business leaders and community advocates.
"FCW will once again bring virtual presentations from our outstanding partners across the state," said Nicole Salzberg, VoLo's climate action program manager and event coordinator, in the news release announcing the event. "This event showcases our commitment to address climate change, to foster innovation and to protect Florida's unique environment. By bringing together experts, policymakers and communities, we outline a resilient future for the state."
VoLo Foundation also announced that proclamations declaring Oct. 2-8 to be Florida Climate Week have been issued by a number of Florida communities, including the cities of Orlando, Edgewater, Kissimmee, Stuart, Winter Park, Miami Beach, Tampa, Clearwater, Fort Myers Beach, Holmes Beach, St. Augustine, Safety Harbor and Okeechobee; Miami-Dade and Broward counties; the town of Longboat Key and the village of Tequesta.
For more information, visit www.floridaclimateweek.org and follow VoLo on Facebook, Instagram, X (formerly Twitter), LinkedIn and YouTube. Join the conversation using the hashtags #fcw2023, #fcw, #flclimatesolutions, #climatecorrection and #volofoundation.
Sign up for The Invading Sea newsletter by visiting here. If you are interested in submitting an opinion piece to The Invading Sea, email Editor Nathan Crabbe at ncrabbe@fau.edu. Editor's note: This post has been updated and now includes video of the panel discussion.