A roundup of news items related to climate change and other environmental issues in Florida:
A 'pink wave' could spell good news for American flamingo conservation in Florida | WLRN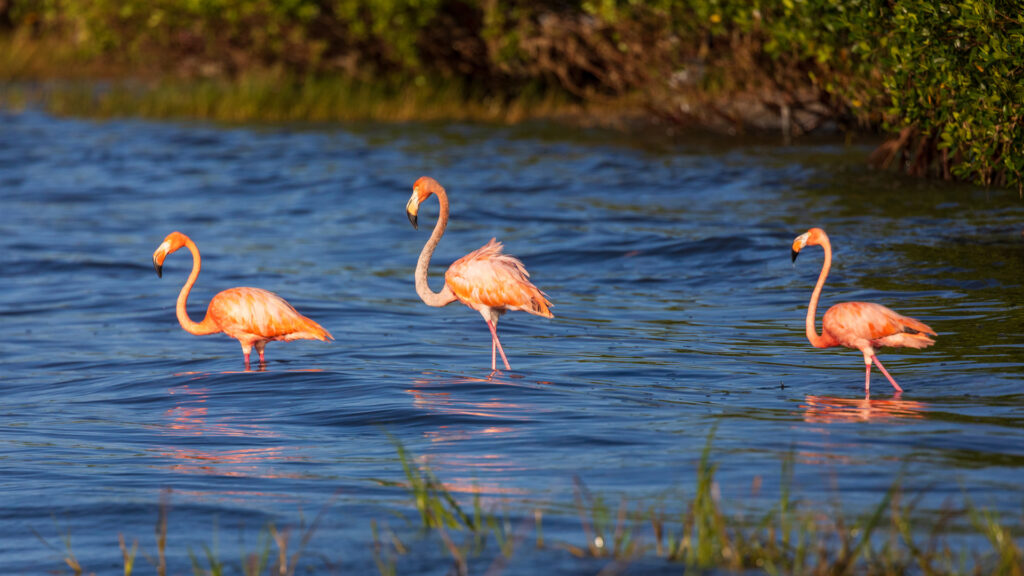 Days after Hurricane Idalia blew through Florida in August, people began sighting flamingos in unusual spots. The birds were spotted as far north as Lake Michigan beach, Wisconsin. One of those fly-ins was "Peaches" who was found in deep water off Florida's Gulf Coast.
Now the bright-pink bird is being tracked by a pair of researchers searching to see if wild, breeding populations may return to the state since they went locally extinct in the early 1900s.
The adult bird, whose sex researchers have yet to determine, was floating in deep water, likely exhausted from flying a long distance with feathers that were getting waterlogged. Peaches was then scooped up in a net and brought to the Seaside Seabird Sanctuary for rehabilitation, said Frank Ridgley, Zoo Miami's head of conservation and research.
Miami-Dade's worker heat protection bill was a milestone. Lobbyists are watering it down | Miami Herald
When it was introduced in July, a landmark Miami-Dade County bill proposed heat safety regulations that would have protected outdoor workers for nearly half the year.
After negotiations with lobbyists in the construction and agriculture industries, the latest version of the bill — scheduled for a final vote before the County Commission next month — would take effect for less than five days a year, on average.
That big change is the result of a small but critical edit construction and agriculture lobbyists requested. The original wording would have required companies to give outdoor workers water and breaks on days with a 90 degree heat index, a standard that blends the impacts of temperature and humidity. The current version would now kick in when only the air temperature hits 95 degrees — a much rarer occurrence in Miami.
Grant will help Orange County better prepare for future flooding | WKMG-TV News 6
Orange County is receiving new state funding that leaders say will help communities be resilient during extreme weather events.
During a meeting on Tuesday, commissioners approved the acceptance of a $420,000 grant aimed at preparing the county for the impacts of intensified storms and flooding.
The money will be used for a flood resilience study and the approval came nearly a year after Hurricane Ian caused more than $200 million in damages.
If you have any news items of note that you think we should include in our next roundup, please email The Invading Sea Editor Nathan Crabbe at ncrabbe@fau.edu. Sign up for The Invading Sea newsletter by visiting here.