By Chris Hildreth
About 11,100: This is the number of solar panels on and around Lincoln Financial Field, home of the Philadelphia Eagles. These panels generate four megawatts of electrical power annually.
Owned and operated by the local utility, the array is just a part of the team's involvement in an extensive environmental program. Stadium employees collect all refuse after each event, walking the entire stadium, ripping open every trash bag and sorting the contents.
Aluminum cans are processed by in-house equipment so that when they're picked up by recyclers, the cans are crushed and baled, ready for the smelter. This ensures they earn top dollar, as much as $1,000 per ton. In addition, plastic is reused to make cup holders, seats — even an oversized replica of the team's 2018 Super Bowl trophy.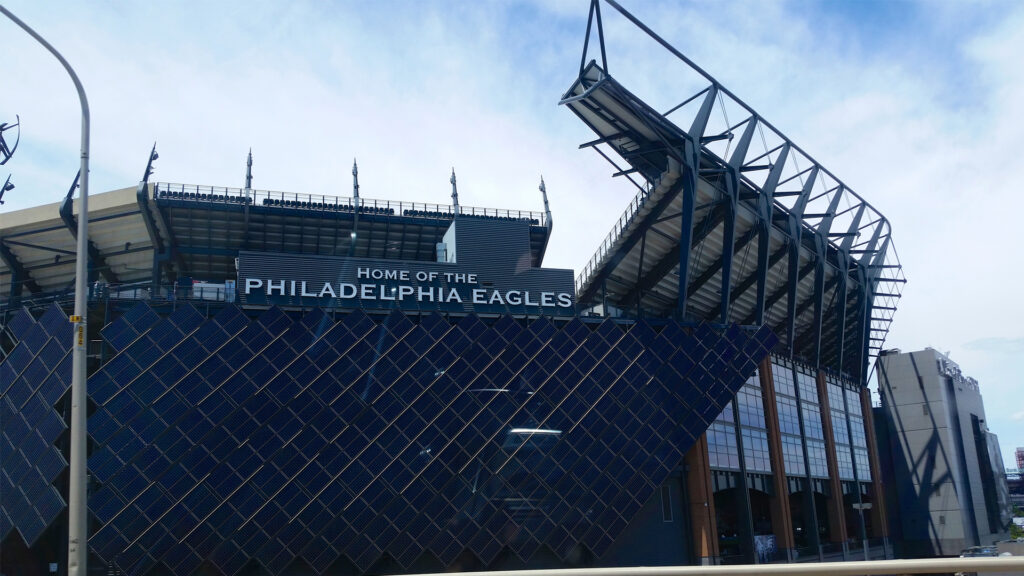 Discarded shrink wrap becomes an ingredient in drywall and organic refuse is composted. The team claims 99% of all waste is kept out of landfills. A network of motion sensors operates the all-LED lighting system. Rainwater is captured and used for irrigation. Low-flow plumbing systems that flush themselves save more than 5,000 gallons of water per event.
All water fountains have filtration systems that reportedly eliminate over 1 million plastic bottles yearly. Employees are also issued transit cards to encourage mass transit.
The Linc (as the locals call it) uses 12 megawatts of power annually and achieves zero emissions on the 8 megawatts of power generated by fossil fuels using carbon offsets, credits purchased to decrease an entity's carbon footprint. Each credit equals 1 metric ton of CO2.  
A key term in the carbon offset industry is "additionality," which means for a true offset, the activity must be in addition to what was already in place or planned. In the case of the Linc, all the activities detailed above — in conjunction with the funding of seagrass and mangrove tree plantings on the coast of Central America — are the definition of "additionality."
I found nearly a dozen other NFL stadiums that are among the top solar power adopters in the U.S., and Jacksonville isn't on the list. Actually, it appears that no NFL team in Florida — the Sunshine State — uses solar panels.
All this has me thinking, if the Eagles can do it, why can't we? We have their coach. Why not the solar array? I asked Jaguars President Mark Lamping about alternative energy at one of the "community huddles" a short time ago. He indicated he'd consider it if the money was there for it.  
So the city owns the stadium and it owns JEA as well. What if the city got JEA to install 15,000 solar panels on and around the stadium? It wouldn't be the largest project I've seen on the JEA website, but it wouldn't be the smallest either.
Philadelphia has thousands of panels in their parking lot alone. Imagine how Jacksonville fans would feel getting in their solar panel-shaded vehicles after a game. We could be the No. 1 football stadium in terms of alternative energy generation … by quite a large margin.
Climate change is real and it's an existential threat to the planet. That's an overwhelming statement to make but nonetheless — it's absolutely true. How do you handle something like that? I believe you have to start somewhere.
We installed solar panels on our house, and it cut our energy bill in half. We replaced our sod lawn with native flora. We use 6,000 less gallons of water monthly. We installed clotheslines in the backyard. What if a lot more people did this?
Perhaps JEA could install solar panels on all their facilities and all other municipal buildings as well. How about striking deals with Amazon and other large warehouses for rooftop solar arrays while they're at it? Maybe they could install arrays on entrance and exit ramps to the expressway system in the county (as was done for many of the cloverleaf interchanges in the Metro-West Boston area).
Incrementally, we could slowly begin to back away from the brink of the coming planetary climatic disaster. Sooner, rather than later, climate change will be front and center globally — and in no uncertain terms. Florida is feeling it right now in ways the rest of the country isn't. The more we do now, the less we will feel it later.
Chris Hildreth lives in Jacksonville. This opinion piece was originally published by the Florida Times-Union, which is a media partner of The Invading Sea.
If you are interested in submitting an opinion piece to The Invading Sea, email Editor Nathan Crabbe at ncrabbe@fau.edu. Sign up for The Invading Sea newsletter by visiting here.