Delray Beach recently hosted a two-day conference about threats the region faces from the warming climate, particularly the problems posed by rising sea levels.
The free two-day event at Hyatt Place on Oct. 5 and 6 featured lectures by a series of expects on those topics.
Among the speakers were: James Sullivan, executive director of FAU Harbor Branch Oceanographic Institute; Rod Braun, manager of the Climate & Coastal Resilience Program at the Nature Conservancy; and Erin Deady, a lawyer and land planner.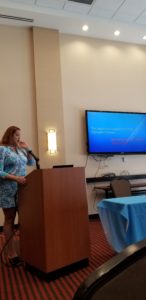 Sullivan's a primary focus is algal blooms and how they can harm us and the environment. He said microscopic plants called phytoplankton/algae produce the toxins in red tide. He said red tide thrives when there's lots of light, warm water temperatures and ample nutrients.
When blooms decay, they suck oxygen from the water, which sickens sea life. Thick surface blooms can prevent light from getting deep into the water. This often kills seagrass, a food staple for marine creatures.
Sullivan said some people react to red tide by coughing. That's a warning to move away from the water. He said people should avoid activities like kayaking and swimming when red tide is present. He said pets have died from exposure to the toxins in blue-green algae.
Little research has been done on algal bloom toxins. He said the toxins are potentially as dangerous as lead, especially when get into fish. He said researchers should examining bloom toxins in people by testing levels in blood, urine and nasal cavities.
Sullivan said he believes Florida can lead the nation in dealing with environmental threats and suggested that citizens contact government officials and urge them to support such vital research, which he acknowledged would be expensive.
Braun said Florida needs strategies to cope with category 5 hurricanes and increasingly intense rainfall.  He outlined what nations need to do to reduce the threats from a warming climate:
— Limit global warming to 2 degrees Celsius over preindustrial levels
— employ natural solutions to keep carbon out of the atmosphere
— reduce greenhouse gases by using clean energy
— restore natural ecosystems such as mangroves and oyster reefs to protect coastal property from storm surge.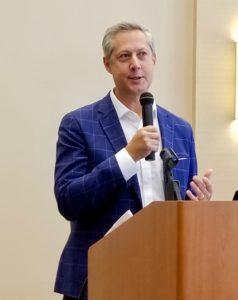 He said the U.S. can remove 21 percent of the nation's carbon pollution by using natural climate solutions – this is equivalent to removing emissions from all cars and trucks on the road.
Braun called the Southeast Florida Reginal Climate Change Compact – a environmental collaboration of Monroe, Miami-Dade, Broward and Palm Beach counties — "rock stars" in addressing the climate crisis in the region. Tampa Bay, East Central Florida and Southwest Florida recently created similar collaborations.
Deady focuses on maintaining infrastructure.  Her legal work addresses who is liable when the environment puts people at risk. She cited a case in California where local government attempted to sue fossil fuel companies to assist in paying for adaptation projects.
"Delray Beach is a really great case study attacking from all fronts," she said. The city considers sea-level rise in its Comprehensive Plan. It is planning projects with adaptation in mind.
At the final seminar at the Delray Beach Library, Dr. Keren Bolter, a climate scientist, talked about actual and perceived risks to South Florida from sea-level rise.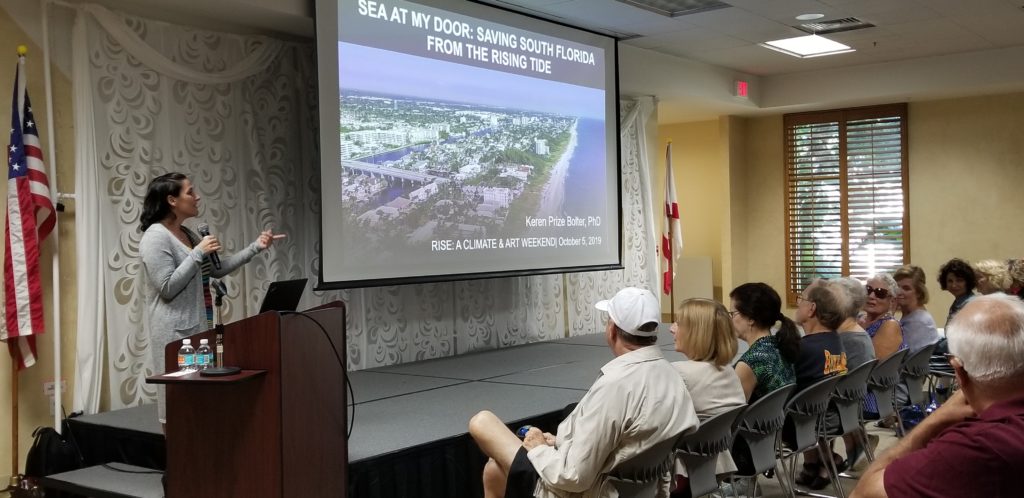 She discussed intense rainfall, groundwater rise, king tide, sea-level rise and storm surge. She noted that in the fall king tides can push the ocean a foot higher or more.
Bolter complimented Delray Beach for its high vegetated dunes that significantly limit erosion.
Looking at natural solutions, Bolter referred to the "culture of sea walls" that has been cultivated in Florida, where living shorelines and mangroves provide more protection.
She said governments should invest in projects that will reduce damage from storms and the rising sea. She said that every dollar spent on prevention can save $11 in rebuilding.
Bolter said that in the Netherlands – a nation where much of its land is below sea level – the government places much of the burden of adaptation on developers and not taxpayers.
Delray Beach Mayor Shelly Petrolia said she has been attending the regional compact conferences since 2013. She said has used what she learned there to help the city establish regulations for sea wall construction and elevations in the city's building code and more green initiatives.
Benita Goldstein is a writer in Delray Beach.
"The Invading Sea" is part of the Florida Climate Reporting Network, a collaborative of news organizations across the state focusing on the threats posed by the warming climate.