By Eric Eikenberg, Everglades Foundation
Florida's most effective response to the increasing threat of rising sea levels is one that scientists and policymakers agreed upon more than 20 years ago. We were finally making progress until last week, when a senseless bureaucracy threw a wrench into the gears.
After years of discussions involving policymakers, scientists and stakeholders at the federal, state and local levels, Congress in 2000 adopted the Comprehensive Everglades Restoration Plan (CERP), a remarkable bipartisan bill that encompassed more than 60 separate public works projects to be built over a 30-year span.
Despite its complexity and cost, when you reduce CERP to its core, it comes down to four words: move more water south. That's also the best prescription for sea-level rise induced by global climate change, because by doing so, we will increase the offsetting pressure of encroaching seas with fresh water.
Gov. Reubin Askew once observed that Florida is "the world's first and only desert which gets 60 inches of annual rainfall." The problem is that man has drained, dammed and channeled more than half the fresh water that once flowed naturally south from Lake Okeechobee through America's Everglades and into Florida Bay.
The billions of gallons of water that once saturated the Everglades also established a powerful counter pressure to the ocean and also to storm surge.
The goal of Everglades restoration is to revive much of that flow by storing water instead of dumping it. One project in particular, the Everglades Reservoir being built south of Lake Okeechobee, is critical to doing so.
Although a reservoir to the south of Lake Okeechobee was one of the handful of projects specifically outlined in the CERP legislation 20 years ago, virtually no progress was made on it until persistent outbreaks of toxic blue-green algae devastated tourism and made life miserable for people along both Florida coasts. The stench and sight of piles of dead fish on once-pristine beaches mobilized thousands of citizens to demand action on the reservoir, which scientists say will reduce algae-causing discharges by more than half.
Once in office, Gov. Ron DeSantis made this reservoir a priority of his new administration and the Florida Legislature responded in kind, approving full funding of the state's 50 percent share of the cost.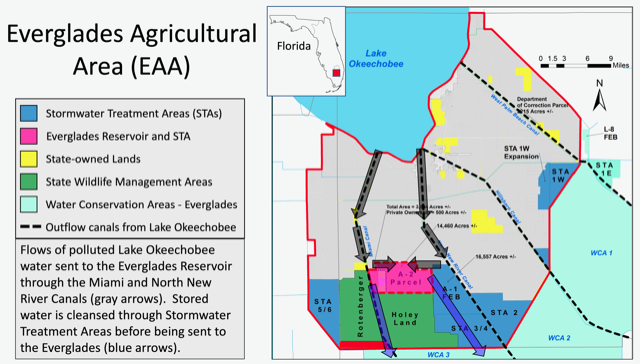 A newly appointed South Florida Water Management District board moved to accelerate construction and Washington, too, stepped up to the plate, more than tripling its previous year's funding commitment. Last fall, Florida Crystals Corporation was persuaded to terminate its lease on land needed for the project, allowing construction to proceed.
In April, the U.S. Army Corps of Engineers approved a federal permit to begin construction of the first portion of the project, a storm water treatment area.
All systems were "go" – until an arbitrary designation by the Army Corps slammed the brakes on this project.
Despite Congress in 2018 specifically clarifying that the Everglades Reservoir is a part of the Central Everglades Planning Project and does not require it, some faceless bureaucrat within the Army Corps has designated the reservoir a "new start," meaning that it will not be eligible for federal construction funds until at least Oct. 1, 2021.
President Trump, DeSantis, Congress, the Legislature and the South Florida Water Management District were all expecting that the Army Corps' budget would include funds for the reservoir beginning on October 1, with completion as soon as 2028.
Now, because of this Army Corps designation, the Reservoir will not be eligible for federal funding for at least another year.
It is a bureaucratic misreading of arcane rules that, if allowed to stand, will have a devastating effect on this state and our environment. It will forestall a project that is vital to Florida's economy, to Everglades restoration and to countering the impact of rising sea levels on the Everglades and South Florida's drinking water supply.
Already, three Florida congressmen, Sen. Marco Rubio and U.S. Reps. Brian Mast and Francis Rooney, have demanded that the Army Corps rescind its "new start" designation.
Mast, Rooney and Rubio are right. The Everglades Reservoir project is a $1.6 billion, 16,600-acre investment by the people of Florida and the United States that is essential to restoring America's Everglades and building much-needed climate change resilience. Once complete, it will send more than 120 billion gallons of clean, fresh water to the Everglades and Florida Bay every year.
It must not be put on hold because of a bureaucracy's misreading of its own rules. The Everglades Reservoir is hardly a "new start." Florida has waited for too long already.
 Eric Eikenberg is CEO of The Everglades Foundation. 
"The Invading Sea" is the opinion arm of the Florida Climate Reporting Network, a collaborative of news organizations across the state focusing on the threats posed by the warming climate.