By the Orlando Sentinel Editorial Board
There was good news last week for people who fear Florida is turning into a sewer. The state decided to fund a program that will help residents around Wekiwa Springs switch from septic tanks to sewers.
That came just days after the promised funding was yanked, which prompted a small protest outside the County Administration Building.
"Keep Your Word!" one of the protesters' signs read.
The message was intended for Gov. Ron DeSantis, who has billed himself as an environmental governor. The fish and seagrass in Florida's springs would argue with that, but DeSantis deserves credit for passing the small test in Wekiwa Springs.
"We got the money," said Orange County Commissioner Christine Moore, who is spearheading the program.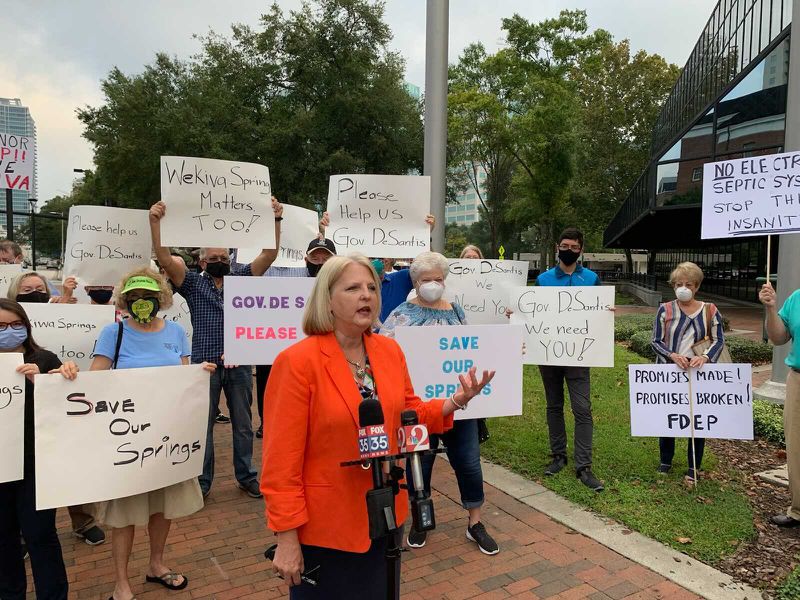 The $4.3 million grant will pay for the first phase of a 12-year, $123 million plan aimed at switching about 2,000 houses from septic tanks to sewers. As relieved as Wekiwa Springs residents are, the money is just a drop in a festering multi-billion-dollar sewage problem.
Florida has about 2.7 million septic tanks, including 50,000 in Orange, Seminole and Lake counties. They are responsible for between 15% and 30% of the nitrogen and phosphorus pollution that seeps into springs.
If you're wondering why the water isn't as clear and the current isn't as strong and there aren't as many fish or as much seagrass in Wekiwa Springs, there's a big part of your answer.
DeSantis has been a better friend to Mother Nature than Rick Scott, which isn't saying much. But his environmental initiatives have been more showy than impactful.
Witness the press conference last month at Weeki Wachee Springs. DeSantis almost sprained his shoulder patting himself on the back for coming up with $150 million for springs cleanup and protection over the next two years.
"The projects announced today continue our mission to restore and protect our water quality throughout Florida," DeSantis proclaimed.
What he didn't explain was how that money was already allocated under laws passed during Scott's administration. There wasn't a dime of new funding.
Scott was largely forced into action when 75% of voters approved a 2014 amendment that provided $23 billion over 20 years to environmental programs.
Much of that goes to Everglades restoration, which is fine. But that area is populated mostly by alligators and pythons.
Florida's springs, almost all of which are north of Interstate 4, are enjoyed by millions of swimmers, boaters, anglers and nature lovers and tourists. Think of Weeki Wachee's mermaids or Silver Springs' glass-bottom boats or the hotel that entrepreneurs built at Wekiwa Springs 150 years ago.
They promoted the "medicinal waters that would cure an assortment of ailments." The hotel's long gone now. So are the medicinal waters.
"If you go back to 1988 and then look at it today, you'd say it's been ruined," said Ryan Smart, the Executive Director of the Florida Springs Council.
It's hard to pinpoint what it would cost to replace all the state's septic tanks. Smart said the bill would cost as much as $3 billion to address the problems around Silver Springs, Rainbow Springs, Volusia Blue Spring and Wekiwa Springs.
The cost in Miami-Dade County alone is an estimated $3.3 billion. Playing shell games with $4 million grants like Wekiwa's indicates the state isn't nearly ready to confront the overall challenge.
DeSantis appointed a task force in 2018 to study the algae bloom problems that turned much of the state's waterways into smelly, pea-green soup. That led to this year's much-ballyhooed Clean Waterways Act.
There are good things in the bill, but it ignores some of the task force's key recommendations. It prevents citizens from suing polluters on behalf of waterways. Orange County voters can weigh on that by voting for the Amendment 1 charter amendment in the November election.
The waterways bill largely gives a pass to the state's biggest polluter — the agricultural industry. And it doesn't adequately factor in the strain brought by booming growth.
About 1,000 people a day are moving to the state. Just as when the Wekiwa Springs hotel was built, much of the allure is the crystal clear water.
It's getting less clear by the day.
"The springs of Florida are a huge part of what makes Florida Florida," DeSantis said. "It's an iconic part of our natural resources."
Every Floridian can agree on that. What we need are leaders who are as impactful as they are showy.
DeSantis passed a small test with Wekiwa Springs. There are much bigger ones on the way.
Editorials are the opinion of the Orlando Sentinel Editorial Board and are written by one of its members or a designee. The editorial board consists of Opinion Editor Mike Lafferty, Jennifer A. Marcial Ocasio, Jay Reddick, David Whitley and Editor-in-Chief Julie Anderson. Send emails to insight@orlandosentinel.com.
"The Invading Sea" is the opinion arm of the Florida Climate Reporting Network, a collaborative of news organizations across the state focusing on the threats posed by the warming climate.