An interview with Eric Silagy, Florida Power & Light Co.
As part of its series "The Business of Climate Change," which highlights the climate views of business men and women throughout the state, The Invading Sea spoke with Eric Silagy, president and CEO of Florida Power & Light Company.
Here are some highlights from the interview.
Florida Power & Light is headquartered in Juno Beach. How have climate change and sea-level rise affected you as someone who lives and works in South Florida?
If anything, it's kind of reinforced the importance of continuing to build a stronger, smarter, and more storm-resilient energy grid to make sure that we can serve the needs of the customers that are here today and then importantly also the customers that are coming to Florida.
We're a state that is blessed with growth, but also requires when you have growth like that to manage it. Right now we're already the third-largest state in America and growing. So we're really trying to meet the challenges of clearly a changing climate, but also a growing infrastructure requirement because we have to meet the needs of people as they come here.
What have the shifts in our climate and weather patterns looked like from an energy-utility perspective? How is the way Florida Power & Light responds to major storms, for example, different compared to 10 or 20 years ago?
We've come a long way. Unfortunately, we have a whole lot of experience responding to storms, not just in Florida, by the way, but elsewhere, because we are an industry that saddles up and goes wherever help is needed.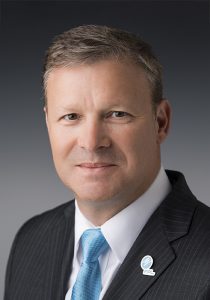 Thankfully, that cuts both ways because we've had a lot of people, as our customers will know, come here to Florida to help us. When storms like Irma, which was the largest storm ever to hit our service territory—and we've been in business now almost a century—and Irma hit every single one of, at the time, 35 counties that we serve in Florida. At one point we had 4.4 million customers—those are meters—so over 9 million people were out of electricity and I'm really proud of the team because we were able to restore half of those customers, nearly 5 million people, in 24 hours or less.
That's really because our approach to responding is different than it was 10, and definitely 20, years ago, partly driven by the investments that we've made in storm hardening. In the past 10 years, we have invested over $4 billion in storm hardening, whether that's concrete poles or steel transmission poles, even bigger wooden poles that are closer together. There's a variety of things that you can do to strengthen the system, and we have now built what is by far and away the strongest, as well as the smartest, grid in the United States.
With its 30-By-30 Plan, FPL plans to install 30 million solar panels by 2030. What percentage of FPL's energy currently comes from fossil fuels and how much is renewable, and how will those numbers change by 2030?
The 30-By-30 Plan we are actually ahead of schedule on. It's 30 million panels by 2030.
You know it's interesting. We've been actually investing in solar technology since 1984, long before it was cool to be green, if you will. Now to be fair, the first solar facility we built in Miami in 1984 was really tiny because it was really expensive. And now we've scaled up to these massive facilities where our standard design is a 500-acre site with 300-plus thousand panels per site, enough to power, on average, about 15,000 homes.
And then these are Florida homes, so they have a lot of air conditioning to them. If you did the equivalent in the Northeast, there'd be twice as many homes. But what we have now is a real program to put in place an affordable way to generate electricity that also uses no water and of course produces no emissions.
Coupled with our other clean assets like our nuclear plants, which also produce zero emissions, by 2030 we'll have 40 percent of our power coming from zero emissions, and continuing to improve upon that because I believe we absolutely need to be striving for a zero-emissions generation fleet.
How is Florida Power & Light working with customers who want to produce their own solar energy?
I support any customer who wants to do that. We work directly with customers by providing a meter, it's going to net meter, so it allows customers to be able to flow electricity, if they have any extra, back onto the grid.
I believe anybody who wants to put solar on their roof should have the ability to do that, but I will tell you that it is still very expensive and we have a lot of customers. The majority, vast majority, of our customers do not have solar on the roof for a variety of reasons, either cost or in many cases it's because they don't own the roof, they don't have the ability to put solar on the roof because they don't own it.
They live in a condominium, or they live in an apartment building as an example, or manufactured home maybe where you can't put it on because of the structural issues. So we actually created a new program called Solar Together, which gives our customers the opportunity to have their electricity come from solar generation, but the solar generation that we build in the middle of the state at these really big solar facilities, so it's affordable.
What kind of changes can we expect to see in the energy industry in the next 20 years? Will we see more widespread use of alternative energy sources, such as methane from landfills?
I can't speak to the methane of landfills. I mean, maybe. That's been used for a long time. It's pretty limited in the ability to do it at scale.
I think we should be smart on how we utilize any of the resources that are available, but I think there's going to be significant change within the industry. You're already seeing it. We've now been in the renewables business for more than a quarter century.
As a company, NextEra Energy, which is the parent company of Florida Power & Light, between Florida Power & Light and our sister company, we are the largest producer of electricity in the world, from wind and solar and now battery storage. We're proud to kind of blaze the trail, if you will, and show others how you can do it around the country.
We generate electricity from wind and solar and using battery storage, and then we provide that electricity, we sell that to other utilities around the country. We're actually doing work outside of Florida in 48 of the other 49 states. So I think you're going to see a lot of change because a lot of other electric providers are kind of turning the corner a little bit in how they're approaching this.
I'm really proud of the fact that Florida Power & Light has the largest solar build going on in the country. We're installing more solar generation than anybody. We actually produce more electricity right now from the sun at FPL than I think anybody in the United States.
Kevin Mims, a Florida-based freelance journalist, is the producer of "The Business of Climate Change." He conducted this interview with Mr. Silagy.
"The Invading Sea" is the opinion arm of the Florida Climate Reporting Network, a collaborative of news organizations across the state.