By the Orlando Sentinel Editorial Board
There's no way to pretend Florida's manatees aren't endangered. They are. In every sense of the word.
The official tally of deaths this year stands at 1,038 (as of Dec. 3 — more have died since then). That's more than twice the annual average of the last five years — and nearly one-sixth of the entire population of manatees in the southeastern United States and Puerto Rico. In one year.
Even worse, the biggest factor in this "unusual mortality event," (as federal wildlife officials blandly tag it) is one that won't be getting better any time soon. In fact, deaths may accelerate as Florida moves into colder-weather months.
The problem is simple and horrible: Manatees are starving to death, particularly in the Indian River Lagoon, where the ecosystem is in a state of wholesale collapse after decades of pollution and inaction on the part of local, state and federal officials. Dozens have been taken to various rehab centers across the state for a laborious, months-long recovery, but too often, the slow-moving mammals aren't spotted until it's too late to save them — as was the case with a baby manatee found last week, with The Sentinel's Kevin Spear on hand to document the grim and grisly task of removing his carcass from the water.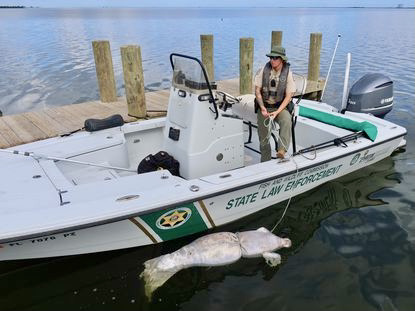 The peril is so great that manatee advocates along with state and federal officials have agreed to an unprecedented plan to supplement manatees' diets in one key area with romaine lettuce. It's a move that Pat Rose, longtime head of Florida's Save the Manatee Club, never wanted to make.
Feeding manatees only encourages them to linger in areas where there is no other food source. But many are just too weak to make it to safer feeding grounds, and Rose — along with others — is too heartbroken and weary of watching manatee carcasses hauled in nearly every day.
"Hopefully it will buy time for the manatees that might not otherwise make it," Rose said last week, noting that the feeding will be restricted to one specific area in Brevard County, though it may later be expanded. State scientists are also working to replant seagrass in areas where it might take root, and suspending spraying of herbicides so manatees can eat floating vegetation as well. They hope it will be enough to save at least some of the manatees that are most threatened. But they fear it won't be.
The manatees aren't the only ones suffering. The vanished seagrass beds where they once foraged were also prime spawning grounds for the wide variety of fish, crustaceans and other sea life that make the Indian River Lagoon one of the most diverse estuaries in the nation.
And if dollars and cents matter more to you than fish and wading birds, consider this: The lagoon is a multi-billion-dollar driver of the coastal economy from south Volusia down into Palm Beach County. Massive algae blooms have, in past years, turned portions of the lagoon into a fetid soup often compared to rancid guacamole. Imagine how many tourists want to return after seeing (and smelling) that.
Many are beginning to wonder whether the lagoon has passed the point of no return. Now they're asking the same question about the manatee population, particularly those who frequent South Florida.
The same scientists and environmental advocates have been sounding the alarm about the lagoon for more than a decade. And they were almost completely ignored in 2017, when (after years of insidious attempts) a politically masterminded ploy resulted in an official downgrade of manatees' protected status under the Endangered Species Act.
It's time to undo that. If it takes political machinations to accomplish it, so be it. U.S. Reps. Vern Buchanan and Darren Soto have filed legislation that would fast-track the manatees' restoration to endangered status — a move U.S. Rep. Stephanie Murphy has also endorsed — and it should pass. That would force officials to give greater consideration to manatees' well-being on several levels of decision-making, including development planning and boat-speed zones, and could lead to increased resources for emergency measures.
It's not an ideal solution, since it would accelerate past scientific evidence-gathering that could put a clearer light on the manatees' peril and prospects for recovery. And it is only a small part of the bigger reality: If Florida and federal officials don't act swiftly to rescue the entire lagoon system, there will be no saving any of the birds, fish and mammals that call it home. But the manatees don't have time to wait for a perfect solution; they need help now.
Editorials are the opinion of the Orlando Sentinel Editorial Board and are written by one of our members or a designee. The editorial board consists of Opinion Editor Krys Fluker, Jennifer A. Marcial Ocasio, Jay Reddick and Editor-in-Chief Julie Anderson. Send emails to insight@orlandosentinel.com. 
"The Invading Sea" is the opinion arm of the Florida Climate Reporting Network, a collaborative of news organizations across the state focusing on the threats posed by the warming climate.