By Jon Paul "J.P." Brooker, Florida Conservation
Florida's manatee population is on the cusp of collapse, and we risk losing these iconic animals forever if we don't improve the water quality in their habitats.
But we also must expand our capacity to rescue and treat manatees that are injured or sick. This is a common-sense investment the Florida Legislature can make that would reap tremendous immediate benefits.
Florida has now passed a grim milestone as we have tragically lost 1,000 manatees this year — nearly 15% of the population.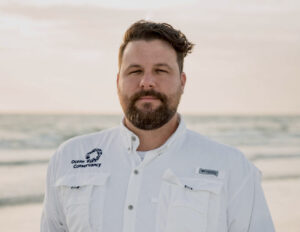 They are dying because of a decline in water quality caused by too many nutrients from residential, municipal, commercial and agricultural sources. These phosphorus and nitrogen nutrients fuel harmful algal blooms, which cloud the water and choke out seagrasses.
One manatee can eat 100 pounds of seagrass per day. As ecosystems like the Indian River Lagoon have lost tens of thousands of acres of seagrass, manatees are struggling to find food and starving to death.
Much of the focus on the manatee crisis has been on relisting the manatee as endangered at the federal level, a common-sense measure that would enhance critical habitat protections for the species and highlight the urgency of the situation.
But we can't stop there. An endangered listing alone won't save manatees in the wild that are in distress now. To do that, we need facilities, staff, scientists, medicine, food and equipment to rescue and treat manatees that are starving, stressed and dying.
We need the Legislature to provide the resources to expand and enhance manatee recovery. Plans are afoot to build new manatee recovery facilities at the Clearwater Marine Aquarium, Bradenton's Bishop Museum and potentially others.
Manatee recovery and rehabilitation facilities will need to be integrated at the planning stages of the proposed Brevard Zoo's Aquarium Project at Port Canaveral on the Indian River Lagoon — a particularly strategic location because the lagoon has seen more than 20% of the total statewide loss in manatees this year.
The existing network of facilities that includes SeaWorld, Ellie Schiller Homosassa Springs Wildlife State Park, ZooTampa, Miami Seaqaurium, the Jacksonville Zoo, and the Dolphin Research Center also need to be expanded.
Manatees need improved water quality, an elevated endangered status and increased federal protections. But we are in an emergency. Manatees are at their most vulnerable, and they immediately need our humanity and our care.
Jon Paul "J.P." Brooker is director of Florida Conservation and a lawyer for Ocean Conservancy, the nation's oldest marine conservation non-profit organization. He is a sixth-generation Floridian.
"The Invading Sea" is the opinion arm of the Florida Climate Reporting Network, a collaborative of news organizations across the state focusing on the threats posed by the warming climate.