By Will Charouhis, Ransom Everglades student
With the planet teetering on the brink of apocalypse, the United Nations World Climate Conference — COP27 — rang in as the most urgently needed climate conference in history.
Negotiators from 197 countries attended the conference in Egypt against a backdrop of unprecedented climate catastrophes in 2022 — floods in India and Pakistan; heat waves in China and Europe; famine in Africa; wildfires and hurricanes in North America.
"The world is on the road to climate hell and our foot is on the accelerator. We are getting dangerously close the point of no return," UN Secretary General António Guterres said at the opening of the conference.
Inside the diplomatic zone, American delegates from Forces of Nature, the youngest NGO accredited to attend COP, uncovered some surprises.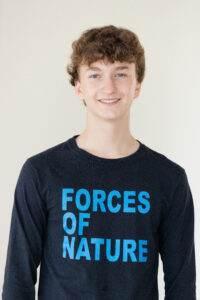 First, the energy inside the venue was markedly different than COP26. There was far less American star power and fewer heads of state than in years past.
Missing from the Leaders Conference were President Joe Biden, who arrived after it had ended. Also absent were Chinese leader Xi Jinping, India's Prime Minister Narendra Modi, Japan's Prime Minister Fumio Kishida, and Russia's Vladimir Putin.
And John Kerry, the special envoy for the U.S., contracted COVID and had to appear via phone at the end.
Without the main players, negotiations stalled. When the biggest claim to success is that the "Loss and Damage" issue "made the agenda" — with details on funding still mysterious at best — it's clear that not much  substantive was accomplished.
On the upside, Forces of Nature delegate, Dr. Kelly Jackson, Sustainability Director at Ransom Everglades School in Miami, was thrilled to see youth, females, Africans, and speakers from small island nations.
"It's essential we have every voice in this fight," said Jackson.
As the clock ticked down, some negotiators stayed and kicked final harried meetings into overdrive in a last-ditch effort to save humanity from itself.
And at 4:10 a.m. on Nov. 20, Egyptian Foreign Minister Sameh Shoukry gathered a weak but legal quorum of 111 nations to sign off on a landmark deal to compensate poorer countries for damages caused by global warming.
The agreement is part of the larger COP27 agreement that has yet to be approved by nearly 200 countries. If finalized, the deal represents a breakthrough and begins to repair relations between the Global North and the Global South on climate issues.
Developing countries leave COP27 relieved that there may finally be a mechanism to pay for their climate-related losses. But questions remain on how and when such compensation will be funded.
The scientists exited COP27 with faces drawn. Plans for global emissions to peak by 2025 and a phase-out of all fossil fuels were cut from the final draft agreement. That means that those relying on the loss and damage fund, already trillions of dollars behind what is needed to address climate catastrophes before it even gets started, will face increased climate losses in the coming years.
Anxiety filled the empty halls, and the sense of urgency in the climate community has sunk to a quiet desperation.
The last grains of sand in our planet's hourglass are running out, and we won't be able to turn back time. Scientists at COP27 report that the world is on pace for temperatures to rise past the irreversible tipping point, melting ice sheets and leading to an escalation of global warming, rising seas, and loss of lives.
As we wait anxiously to see if the COP27 Agreement will gain teeth to pay for losses and adaptations in developing countries, it remains more important than ever that we redouble our efforts to reduce global warming.
We need big government commitments. But the financial and lifestyle sacrifices will, in the end, be ours. Turn off your lights, reduce air travel, buy electric vehicles, reduce consumption, write your officials, and vote.
We've got to believe-and act like-we've still got this. After all, we don't have another choice.
Will Charouhis is a 16-year-old climate activist.  He is the founder of Forces of Nature, a youth-led organization whose mission is to halt climate change. He can be reached at: Weareforcesofnature.org, Linked In, WCharouhis
"The Invading Sea" is the opinion arm of the Florida Climate Reporting Network, a collaborative of news organizations across the state focusing on the threats posed by the warming climate.