By Conservation Florida
Conservation Florida and the Florida Department of Environmental Protection's Division of State Lands have completed the conservation of Crippen Ranch, a 615-acre property in the Northern Everglades.
Located in north-central Okeechobee County and connected to the Kissimmee Prairie Preserve State Park, the property is within a key region of the Northern Everglades Headwaters National Wildlife Refuge and Conservation Area. It's a mosaic of seasonally wet grasslands, longleaf pine savannas, and cattle ranches that sustain one of the most important assemblages of imperiled species in the southeast United States.
The conservation easement placed on the ranch permanently prohibits development on the property while allowing cattle ranching operations to continue uninterrupted.
Partnerships are critical in making this type of boots-on-the-ground conservation happen. "Securing a conservation easement on Crippen Ranch is a win for Florida's environment, rural economy, wildlife, and more," said Traci Deen, President and CEO of Conservation Florida.
"We are grateful to landowner Scott Crippen for his commitment to conservation and thank our partners at the Florida Department of Environmental Protection's Division of State Lands, as well as our donors, for their tremendous support in our shared mission to conserve a wild slice of old Florida," Deen said.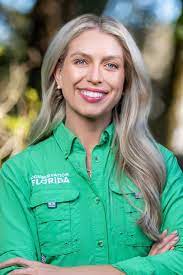 The total purchase price of the easement was $2,070,000. August's Cabinet meeting marked a pivotal moment as Gov. Ron DeSantis and the Cabinet approved its funding. Thanks to Gov. DeSantis and the Florida Cabinet in its role as the Board of Trustees of the Internal Improvement Trust Fund, funding was allocated from the State's Florida Forever program to complete the purchase of this 615-acre conservation easement.
"This acquisition was made possible by collaboration between the State of Florida, nonprofit and private stakeholders who are dedicated to conserving wild Florida," said Shawn Hamilton, Secretary of the Florida Department of Environmental Protection. "The department remains committed to continuing our efforts to acquire and preserve conservation lands for generations to come."
Crippen Ranch is located within the Kissimmee-St Johns River Connector Florida Forever project, which ranked No. 7 in the Florida Forever Less-Than-Fee category, located within the Northern Everglades, Avon Park Air Force Range Sentinel Landscape, and the Florida Wildlife Corridor.
Adjacent to the vast Kissimmee Prairie Preserve State Park, the ranch is an extraordinary example of a property's protection supporting many conservation goals. The Kissimmee-St. Johns River Connector Project is intended to provide a habitat and hydrological connection between the Fort Drum Marsh Conservation Area, the Kissimmee Prairie State Preserve, and the Ordway-Whittell Kissimmee Prairie Sanctuary. This protection area will conserve high-quality, natural habitats for a wide variety of wildlife and plants.
Properties in the region provide critical habitat for species such as the Florida grasshopper sparrow, Florida black bear, crested caracara, gopher tortoise, and other imperiled wildlife species. It is also estimated that more than 50% of all habitats used by panthers in the Northern Everglades are on private lands.
Conservation Florida worked with the landowner Scott Crippen and the Department of Environmental Protection to negotiate the deal. "Conservation Florida has been a pleasure to work with," said Crippen. "I am a huge advocate for preserving wild Florida. I will rest easy knowing our family's ranch will be appreciated, as it is now, forever. I sincerely hope other ranchers and landowners take this path in conserving what is left of our wild and beautiful state."
Projects Conservation Florida targets in this region will help filter surface water flowing from the north before it reaches Lake Okeechobee. In addition to contributing to the clean drinking water supply for millions of people, the land provides shelter for many species of neotropical birds during their spring and fall migrations.
Conservation Florida is proud to continue to have worked with the Department of Environmental Protection to see this property conserved forever.
Conservation Florida is a statewide accredited land conservancy working to conserve Florida's water, wildlife, wild places, and protect the Florida Wildlife Corridor. The organization's conservation projects support Florida's native plants and wildlife, fresh water, wildlife corridors, family farms and ranches, the economy, and nature-based recreation. Since its founding in 1999, Conservation Florida has prioritized strategic and evidence-based land protection and has saved over 30,000 acres of critical habitat. 
"The Invading Sea" is the opinion arm of the Florida Climate Reporting Network, a collaborative of news organizations across the state focusing on the threats posed by the warming climate.