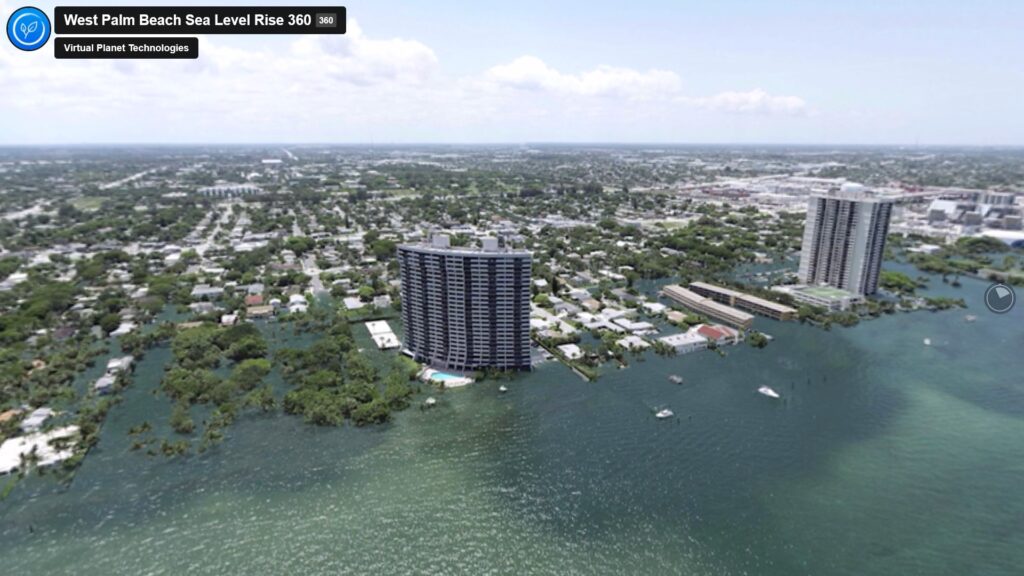 A virtual reality simulation shows the devastation that a major hurricane, combined with sea-level rise, would have on West Palm Beach – and what can be done to stem the tide.
The simulation was developed by Virtual Planet Technologies in partnership with Florida Atlantic University's Center for Urban and Environmental Solutions and the city of West Palm Beach.
The multidisciplinary team used 3D technology to illustrate the effects of a Category 5 hurricane, exceptionally high tides known as king tides and sea-level rise of 1-3 feet. Viewers are shown the flooding that would happen in West Palm Beach's Osprey Park and the surrounding area under those conditions.
The simulation also shows solutions that can be implemented to reduce flooding, such as raising the park's seawall and creating man-made islands that buffer against storm surge while also creating additional natural habitats and places for recreation.
The project, which was funded by a Florida Department of Economic Opportunity grant, also includes a research component. The study compares the reactions of viewers to an interactive VR experience depicting the impacts of sea-level rise with a 2D video.
More than 250 participants took part in the study as the full experience, complete with virtual reality googles, was brought to a variety of locations around West Palm Beach from October to January. The simulation can be seen in the video below.
West Palm Beach Sea Level Rise 360 from Virtual Planet Technologies on Vimeo.